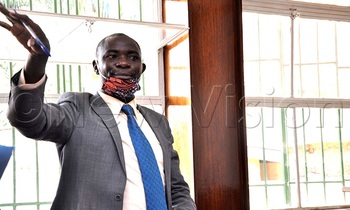 COURT|CRIME|POLITICS
KAMPALA - Renowned lawyer Hassan Male Mabirizi has said the Constitution does not give the Director of Public Prosecutions (DPP) absolute powers to take over private prosecutions.

Mabirizi made the submission yesterday, while objecting to the takeover of his case against Kyadondo East lawmaker Robert Kyagulanyi Ssentamu aka Bobi Wine, by the DPP. Mabirizi accuses Bobi Wine of giving false information about his age.

"Article 120 of the Constitution only gives the DPP functions, but not absolute powers to take over privately-instituted criminal cases," Mabirizi submitted.

He also attacked Buganda Road Court resident state attorney Janat Kitimbo, who he said sought to take over his case without getting specific or general instructions from the DPP, Justice Jane Frances Abodo.

Mabirizi asked the presiding Grade One Magistrate, Stella Amabilis, to disregard the request to take over his case, arguing that many state agencies, such as the Electoral Commission (EC), have already co-operated with him to obtain the necessary evidence in the matter.

In response, State Attorney Peter Mugisha, who teamed up with Kitimbo, asked the magistrate to make an order for their formal takeover of the matter.

Mugisha argued that the DPP has absolute powers to take over private prosecution under Article 120 (3) (c) and section 43(1))(c) of the Magistrate Court Act.

In regard to summoning Bobi Wine, Mugisha asked the court to postpone it, saying there is purportedly no evidence on record to prove that provisions of Section 42(4) of Magistrate's Court Act had been fulfilled.

Mabirizi, however, asked the magistrate to invoke provisions of Article 274 of the Constitution and disregard section 42(4) of the Magistrate's Court Act, noting that some of its provision is outdated since it was enacted in 1970.

The magistrate, however, cautioned Mabirizi against usurping her powers. "Counsel Mabirizi, do not usurp my powers. Allow me to do my work. By the way, who told you to draft the charge sheet for me? I am not going to use it," the magistrate said. Due to the lengthy submissions, the magistrate said she would give her ruling on September 28.

Bobi Wine was not in court and had no representation because the court process server failed to reach out to him. Mabirizi alleges that on July, 11, 2017, at parliamentary building, Bobi Wine gave false information to Parliament that he was born on February 12, 1982, whereas not.

He also contends that Bobi Wine also lied to the passport office that he was born on February 12, 1982, which is contrary to his date of birth reflected on his academic transcripts.