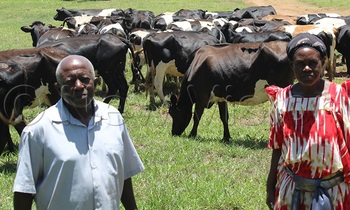 During his prosperity-for-all tour of the Busoga sub-region on August 18, 2010, President Yoweri Museveni made a stopover at James Patrick Bungu's farm in Luuka district.

Museveni was impressed by the rural-based enterprise that sits on 800acres in four villages of Nawanyago, Bunafu, Kidiki, and Khinu in Luuka as well as Kamuli districts.

"I was happy with what I saw at Bungu's farm which I visited today morning," the President said during a talk-show on a Jinja-based FM radio.

As promised, the presidential pledge a pick-up van to ease movement on the expansive farm was delivered on February 11, 2011.

According to Bungu, a retired headmaster, the acquisition of the vehicle has greatly simplified transportation of farm produce to markets plus delivery of cattle feeds to the farm.

Genesis

Bungu recollects that the farming enterprise started small in 1976 as a measure to supplement his meagre teacher's salary.

"My father, Yeseri Kagona used to encourage me to use the family land stretching over 20acres for farming. However, with subsequent land purchases, the farmland nowadays boasts of about 800acres," he affirms.

He narrates that he bought his first cow at sh300 which he had saved from a month's pay of sh590.

"I was then a headmaster but the pay wasn't enough to cater for all domestic needs. So, farming presented an opportunity to get that much-needed side income," he says.

He adds that during subsequent months, he managed to save more cash again and buy four other cows.

"By 1985 the farm had a cattle population of 20 local breeds. I purchased a male friesian that was introduced on the farm in 1986," he says.

He says this was the starting point of having cross-breeds which presently dominate the dairy section.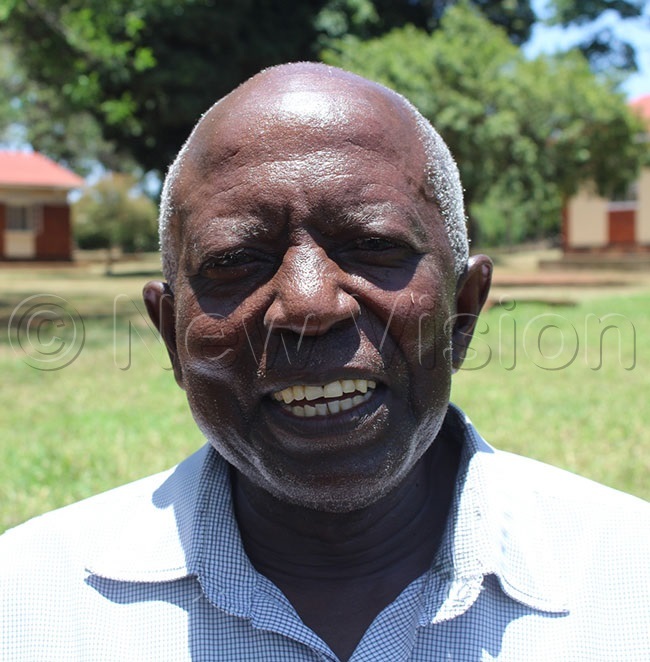 Dairy

Bungu discloses that currently, there are 60 heads of cattle that are being looked after at the farm.

"By 1999 we had 140 animals but the number came down due to sales for school fees. Each time there was a need, I would sell a few to raise cash," he notes.

He says to curb the occurrence of East Coast Fever spread by ticks, regular spraying is carried out that is once a week.

"We buy deo-dip spray which is effective against ticks. Each month, it costs about sh100, 000," he reveals.

He adds that periodical de-worming is done once every four months using Fasoverm-DS that costs sh30, 000 per litre.

Bungu says the eight cows being currently milked produce on average 130litres of milk on a daily basis which fetches sh104, 000 every day. A litre costs sh800 at the farm-gate price.

Dealers using boda boda collect from the farm for onward delivery to outlets in nearby Kamuli town.

He notes that the dairy animals are fed on Guatemala trait of fodder grown on 10acres of farmland.

"We also buy maize bran to boost the feeds at the farm. Every month about 400kg are used and with each kilogram, at sh500 it implies expenditure of sh200, 000," he says.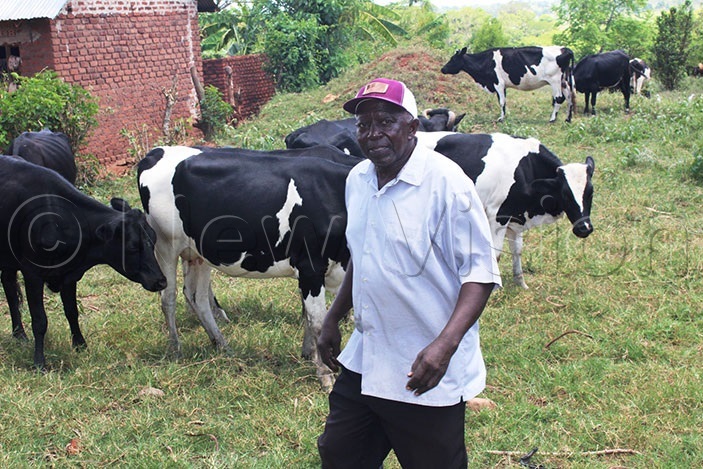 Coffee project

Bungu explains that coffee of Robusta and Clonal varieties occupy 10acres of his farmland.

"This project was started in 1988. We harvest usually from October to December annually to carry home about 80 bags of 60kg capacity," he says.

He reveals that he bought 1,000plantings from Kawanda Agricultural Research Station from the proceeds of the dairy project.

Value addition

"After harvest, a kilogram of coffee beans goes for about sh1, 000 but I add value to mine to get more money. I proceed to turn it into parchment (kase) to make it cost sh4, 500 per kilogram," he reveals.

He says the value addition helps him earn much more than other farmers in the area who simply sell off their coffee beans.

Farm security

Bungu discloses that he has a negative attitude towards hiring guards whom he believes often brings insecurity.

He alleges that some unscrupulous guards often connive with thugs to raid the very properties they are meant to protect.

"I obtained a gun license in 1986 and own a rifle which I carry around quite often during my farm inspection. The mere sight of the firearm kicks-off village rumours of my security alertness thereby scaring away would-be thieves," he claims.

He says the two dogs on location serve to give an early warning signal about intruders by way of their barking.

Farm records

Margaret Bungu, his wife explains that the weekly record update has been ensured over the years.

"The data includes births of calves, milk production, de-worming, and vaccination schedules," she says.

She adds that the records pertaining to sales help appreciate whether profits or losses have been incurred for a particular period.

Farm labour

Bungu reveals that he has eight permanent farm labourers but keeps on recruiting casuals once in a while on pre-determined terms.

"The extra labour is usually needed during harvest time as well as pre-planting season. They can also help in loading and offloading produce," he asserts.

He notes that each permanent worker walks home with a minimum of sh100, 000 per month.

"They have other benefits like entitlement to a litre of milk per day. During holiday seasons, a few kilos of meat are taken home by each labourer," he says.

Bio-security

Bungu uses compost manure made out of cow dung to ensure that he keeps the farm soils fertile.

"I also dug drainage channels to divert running water into the gardens. This maintains the soil moisture content while helping to also check on soil erosion," he narrates.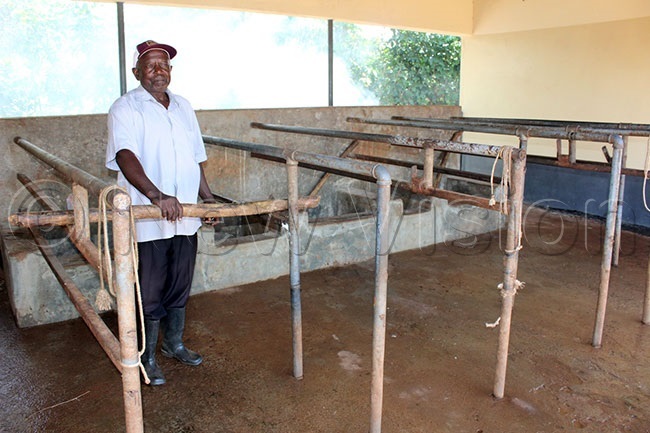 Challenges

He notes that the major challenge faced is the shortage of water caused by prolonged dry spells.

"During such instances, there is a need to search for water for both crops and animals. However, to mitigate this problem, I have since constructed a 3,000litre underground tank to tap into rain harvesting," he says.

He also sunk a borehole at the farm in 1995 which readily provides an unlimited supply of water.

He adds that there are instances when resistant types of ticks attack his cattle demanding for use of more expensive sprays.

Good farming practices

Margaret Bungu narrates that the cattle are sprayed to control ticks once a week.

"We also have several paddocks including six special ones for night time. This gives ample time for grass to re-grow in the unused sections," she says.

According to her, the coffee husks are spread out in the gardens to improve on soil fertility as well as water-retention potential.

Achievements

Bungu has been able to construct a milking parlor that can accommodate four cows at a go. This ensures that the milk is clean and of better quality.

He was also able to educate all his 14 children up to university level without stress from the little cash he was earning from his teaching job.

Both his wives are equally residing in expansive contemporary homes at the farm compound.

Community correlation

He says that since most of the workers are from Ikumbya sub-county, the farm enterprise is helping boost household incomes in the area.

"Some locals even collect water from the farm borehole. Hence this breeds good neighbourliness," he assures.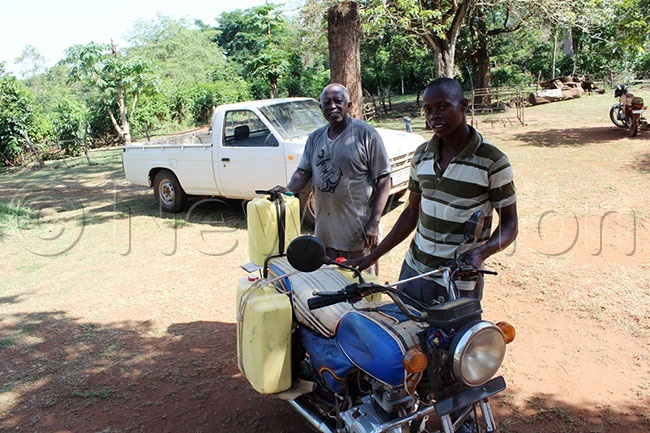 Future plans

Bungu looks forward to acquiring a cooler so that he can keep his milk longer at the farm in an effort to add value to it.

"Since we have electricity on the farm the cooler can work well. It can facilitate the making of yogurt or ice-cream to boost income from milk," Bungu suggests.

Five things to learn from Bungu
God comes first in whatever we start out to accomplish. When the Almighty says yes nobody can say no.

The farmer's physical presence at the farm is key to getting the best out of the enterprise.

There is no end to learning and workshops or seminars could provide important new information to keep the farm venture profitable.

Records should be made religiously as they assist in monitoring the progress of the enterprise.

Don't fear to try new innovations as these could be the stepping stone in taking the farm to a higher level.
Who is Bungu?

Bungu started school at Kidiki Primary School in 1955. He then shifted to Kamuli Boys Primary School to attain a Primary Leaving Examination (PLE) certificate in 1961.

Between 1962 and 1963, he was at Kamuli Junior Secondary School (now Busoga High School) for his Junior I and II levels.

He enrolled for S.1 to S.4 at Chwa II Memorial College in Namungona from 1964 to 1967.

Bungu didn't make it for A' levels at Namasagali College, his school of first choice, due to lack of fees. He ended up at Bishop Willis Teachers Training College in Iganga for a two-year course from 1968 to 1969.

1970- 1972: He taught at Bishop Brown Primary School, Namagabi in Mukono district.

1973- 1977: Served as headteacher of Bishop's School, Mukono.

1978- 2007: Headteacher of Kamuli Girls' Boarding Primary School

Bungu, who started retirement in January 2008, has two wives, namely; Rose and Margaret with whom he gave birth to 14children. Nine of them are girls.

What locals say

Joanita Baluka, resident of Nawanyago village

Bungu is an example to many others with big chunks of land. He has shown that putting it to good use can get someone out of poverty.

Godfrey Walube, resident of Kidiki parish

He was able to achieve both from farming and teaching at the same time. Bungu deserves to be commended for this.

Annet Walyomu, a farmer at Nawanyago village

I have got some tips from Bungu's farm especially on proper care for cattle. My animals are also sprayed regularly to keep off ticks.