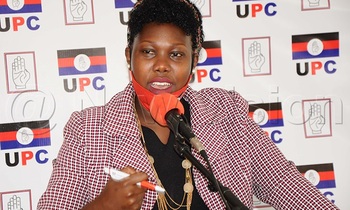 ELECTION WATCH | UPC
The Uganda People's Congress (UPC) has commended as a major milestone the party performance in the just concluded special interest groups (SIGs) elections.

The party managed to win 1392 positions. The party spokesperson, Sharon Oyat Arachi said; "This is a major milestone for the party and special thanks go to all members and supporters that made the party candidates to go through."

She added; "in the forthcoming elections after a careful study and scrutiny of the Electoral Commission roadmap, we have high hopes of performing with flying colours."

According to Arachi, the party managed to win 538 positions in the youth elections, 510 for People with Disabilities (PWDS) and 344 positions for the elderly.

The results released by EC recently showed that he National Resistance Movement (NRM), had won 48,550 (78.88%) of the village youth council chairperson positions.

The independents came second, after taking 9,272 (15.06%) village youth council chairperson positions, followed by the National Unity Platform (NUP) which emerged third with 1,447 (2.35%) positions.
The Forum for Democratic Change (FDC) came fourth position after bagging 1,182 (1.92%) chairperson positions.

The Uganda People's Congress (UPC) won 538 (0.87%) youth chairperson positions, the Democratic Party (DP) 536 (0.87%), the Alliance for National Transformation (ANT) 15 (0.02%), the People's Progressive Party (PPP) five (0.01%) positions while the Justice Forum (JEEMA) won five (0.01%).