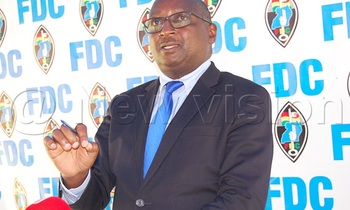 ElECTION WATCH | FDC

KAMPALA- The Forum for Democratic Change (FDC) is to conduct regional elections to elect their party's presidential flag bearer ahead of the 2021 elections.

The candidates will also be required to hold joint campaigns in the entire 21 FDC sub-region.

According to the party leadership, this is aimed at preventing mass gathering which might lead to the spread of COVID-19.

Previously, candidates would traverse the country in different districts campaigning among party delegates and later delegates would converge in one place to vote their best candidate.

Two aspiring candidates including the party president Patrick Amuriat Oboi commonly known as POA, and the national party chairman, Ambassador Wasswa Birigwa picked forms and are expected to return them between August 25th and 26th.

The party deputy spokesperson, John Kikonyogo said candidates are to use one platform to campaign before the delegates in the different meetings.

"We shall be going like to Kasese sub-region and gather delegates from all the districts in one place to vote," he said.

FDC has a total of 1,210 delegates countrywide.

While addressing journalists at the party's weekly press briefing at the party head offices in Najjanankumbi an outskirt of Kampala yesterday, Kikonyogo said the meeting will be organized by the party's chief electoral commissioner, who will also be the returning officer.

"Counting of votes and declaration of results shall be done immediately after voting, and results declaration forms shall be filled there and then; and each candidate or through their agents shall be availed with a copy," he noted.

He said the process is to take 21 days in 21-sub regions of FDC countrywide.

The exercise will be climaxed at the party head offices, where the candidates will interface with the members of the National Executive Committee (NEC) and Members of Parliament.

"The delegates will also vote. In the same gathering, the votes will be tallied and the flag bearer shall be announced to the country ready to lead the party into the general presidential elections," he said.

Kikonyogo said the elections shall be by secret ballot, with all ballot papers serialized with the photograph and names of the duly nominated candidates.

A person shall qualify to contest as an FDC party presidential flag bearer if they have a valid party-card and a citizen of Uganda by birth, and registered by National Identification Regulatory Authority (NIRA).

Must pay a non-refundable fee of sh5m deposited in the FDC bank account, submit three recent passport size photos upon return of the nomination forms and shall be proposed by one delegate, seconded by three others, and supported by 20 delegates composed of five from each of the country's four regions.

He said any presidential aspirant holding a party office is required to present a copy of a letter taking leave from office for the duration of the elections to the EC on nomination day.