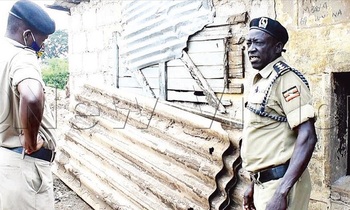 The Police in Kamuli on Wednesday rescued Namasagali College headteacher Daniel Bazira from being lynched by angry residents, who acused him of stealing the school's asbestos sheets.
The incident happened at around 7:30am after Bazira, 52, had just loaded seven old asbestos sheets onto a taxi, which the locals interpreted as "theft" of school property.
Led by the Namasagali sub-county councillor, Moses Kabaale, the mob threatened to beat Bazira and also hurled insults at him, before security arrived.
"The crowd was so big. We called for reinforcement from Kamuli Central Police Station," Ahmed Madiri, the Kamuli district Police commander, said.
Formerly known as "Uganda's Great College," Namasagali went to the dogs in 2008 after the exit of Fr. Damien Grimes who had headed it for many years.
LONG TERM BATTLE
It all started when the taxi driver alerted the locals, who have been at loggerheads with Bazira.
"We have for a long time complained of Bazira's corruption tendencies, but the authorities did not listen. He has for years vandalised the school property, having razed the old structures and sold the metallic rafters to scrap dealers," Kabaale, who is also the LC5 secretary for health and education, said.
They also accused Bazira of grounding the school's truck, taxi and a Toyota Corona car. Madiri said no case was opened against Bazira, adding that the residents' actions were intended to embarrass him. John Nyakana Apuuli, the college's PTA chairperson, said the sheets had been written off on grounds of causing health risks.