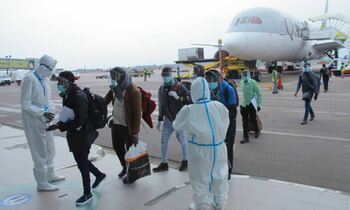 CHINA | LOCKDOWN | COVID-19
The People's Republic of China has offered to bring back Ugandans stranded in the East Asia country if they are able to pay for their airline tickets.

A statement by the Uganda Embassy in Beijing says that China has agreed to use a special flight arranged to pick Chinese nationals stranded in Uganda due to the COVID-19 pandemic, to repatriate some Ugandans who can afford the fare set by the airline.

The flight No. CZ5245, operated by China Southern Airlines, according to the statement, is set to depart from Guanghzou Baiyun Airport on August 28, at 5:20am and fly direct to Entebbe, arriving at 11:28am the same day.

The ticket will cost 15,000 RMB (sh8m). The embassy says it is currently registering those willing to take the flight and will submit the list to the foreign affairs ministry, for booking. After booking is confirmed, the tickets will then be paid for directly.

DEADLINE

For one to register, they need to submit their names, passport number, visa expiry date, gender, province/city, school/company they are in, contact number and sponsor. They can also register through their associations like such as China-Uganda Forum, USAC or directly to the embassy in Beijing or consulate in Guanghzou.

The deadline for registration is midday today. Repatriation of Ugandans stuck abroad due to the COVID-19 pandemic started in June. Initially the target was to repatriate 2,400 Ugandans stuck in 66 foreign countries at their own cost.

The flights were after every two weeks to allow those in quarantine to complete the mandatory 14 days, so as to free up space at the quarantine centre for another batch.

According to Dr Richard Mugahi, the head of COVID-19 quarantine response at the health ministry, from June 23, when the repatriation started, 4,392 Ugandans have returned. Out of these, 64 have tested positive for the coronavirus.