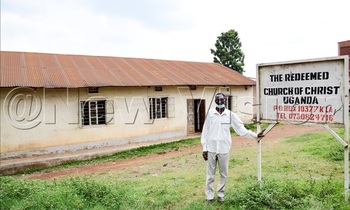 CHURCH UNDER THREAT
After razing St Peter's Church in Ndeeba, businessman Dodoviko Mwanje aka Dodo, is at it again, threatening to demolish another church in the same area.
Redeemed Church of Christ, is facing demolition by businessman Dodoviko Mwanje aka Dodo, New Vision has learnt. The church is located on Kibuga Block 7, Plot 305 measuring 0.19 hectares. It is four blocks from the 41-year-old Anglican St. Peter's Church Ndeeba, which was demolished on the night of August 9, 2020 by bailiffs reportedly hired by the same businessman.
The church, under All Nations Churches of the Born-Again Pentecostal Churches of Uganda with Joshua Lwere as their grand overseer, has received several notices of eviction despite an appeal in court, which is due for hearing on September 1, 2020 at Twed Towers.
According to residents and local leaders, Mwanje, a former mechanic, who owned a garage near Masaku Company on Masaka Road, was working in collaboration with some Asian investors who own a company that manufactures plastic nozzles and plastic bottle caps.
The company has several structures in the area on the land acquired through Mwanje, who has allegedly managed to pay off some people and forcibly evicted others with the backing of Police officers and the courts.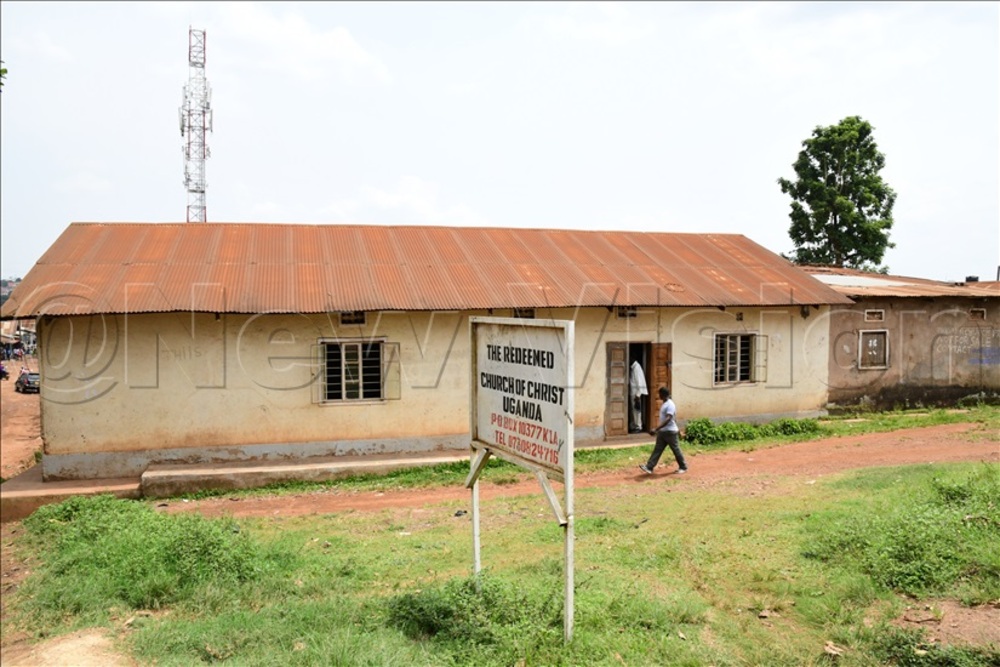 FIGHTING EVICTION
Emmanuel Kizza, the LC1 chairman of Mutaawe zone in Ndeeba, said over 5,000 people have already been forced off the land.
While some have willingly moved after being paid off, a few are still fighting eviction. According to documents seen by New Vision, the Redeemed Church of Christ in Rubaga division with their co-ordination office at the All Nations Church in Kabowa acquired the land in 1994 from one Charles Ssegujja.
The church overseer, Phinehas Ssengendo, who was in company of his wife Agnes Luyiga and other family members, said they were living in fear and facing a lot of pressure due to the ongoing case in court.
He said at one time trucks poured several trips of sand in front of the church. He said they have received several warnings to remove church property or else they would lose everything when the church is razed.
According to Ssengendo, the church was still doing battle with Mwanje, also known as Dodoviko Omwinyi, through a company called Member Investments.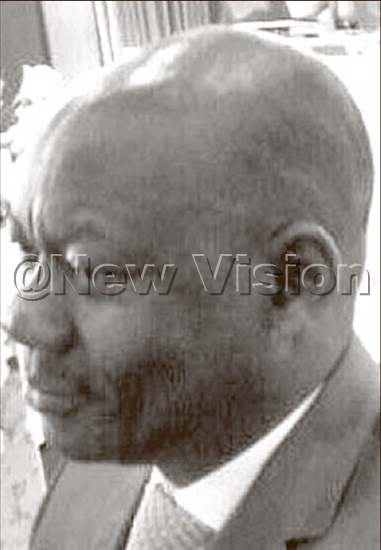 He said according to documents served to the church and passed over to their lawyer, Anthony Wameli of Wameli and Company Advocates, the church first acquired the place as a 'kibanja' in 1985 from Esawo Mukasa but after 11 years, they raised money from other churches and approached Ssegujja who was the estate administrator of the family of the late Galabuzi Ssegujja who died in 2012.
He said the place had some structures, which were removed and the Christians built a permanent church in the area. In 2015, however, according to Ssengendo, Mwanje and his Member Investments Limited served them with an eviction order, referring to them as squatters on his land.
He later dragged the church to court and the case is coming up again on September 1. He said the church pastors sitting at Kabowa have been contributing money to pay for the lawyer and meet other court expenses.
"After seeing the same man demolishing St Peter's Church, we got so concerned because he has been warning us with eviction notices," Ssengendo explained.
He said he had met Mwanje on several occasions, trying to plead with him but he was so determined to go ahead with the demolition.
COMPENSATION REJECTED
He said Mwanje once suggested that he compensates the church with land elsewhere but when the pastors toured the sites he wanted to give to them, they rejected it.
Mwanje later reportedly went around misinforming people and security personnel that the church had accepted to move. According to Ssengendo, Mwanje had also offered sh250m, which they still rejected.
"We are determined to fight on in court because this is our land and no one should force us off it," Ssengendo said.
On Saturday, Ssengendo, accompanied by Pastor Drake Mubiru, visited St Peter's Church and asked the area vicar, Augustine Kayemba and other Christians gathered there to grieve with them because they were the next target.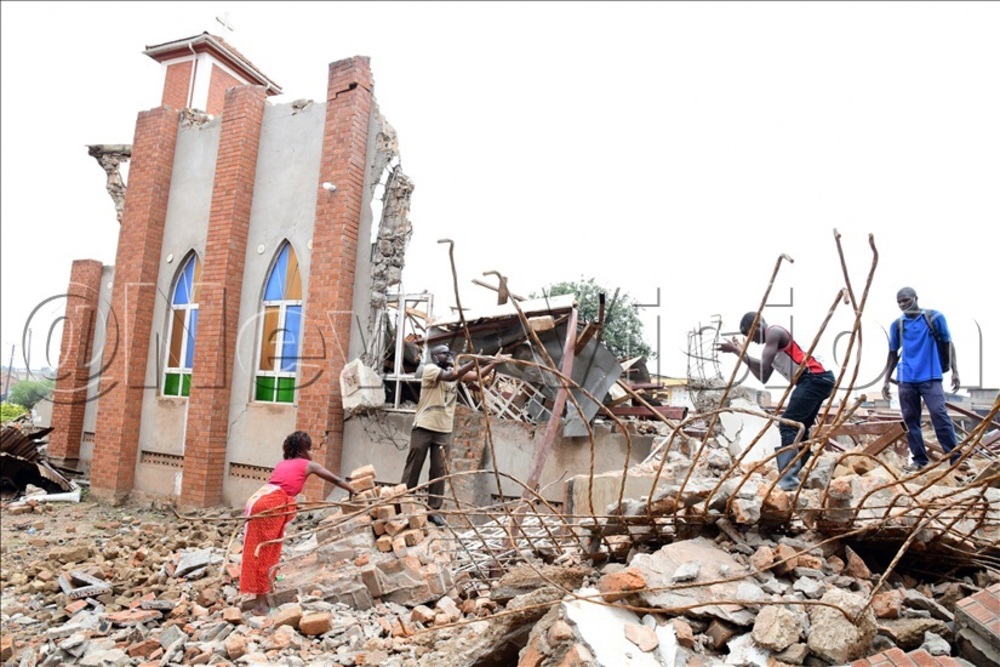 Wameli, the lawyer for the Redeemed Church of Christ, said the latter sued Mwanje, seeking the cancellation of his land title, which he said was fraudulently acquired and was claiming to be the rightful owner.
He said Mwanje, using a fraudulently acquired title, had brought graders to evict the church and demolish it, claiming that they were trespassers on his land, but the church secured an injunction (temporary restraining order) in the High Court.
He said in the main civil suit coming up for hearing on September 1, 2020, before Justice Yasin Nyanzi, the church is seeking a permanent injunction restraining Mwanje from evicting it.
He, however, said the case had dragged for over three years due to change of judges.
In the meantime, according to Wameli, Mwanje is also pursuing a settlement out of court and has been trying to compensate the church with another piece of land and negotiations were still ongoing.
HOW ST PETER'S CHURCH ACQUIRED LAND FROM PRINCESS EVELYN NACHWA:
Church documents seen by New Vision indicate that on February 25, 1979, a group of Anglican Christians broke away from the Uganda Martyrs' Church Katwe due to some disagreements and started a breakaway church at Nabagereka Primary School in Mengo.
They were given space by one of their colleagues, Phoebe Nkoyoyo Kagumya in Ndeeba and started praying in her home. They later built a papyrus church in her compound close to the church's present location. The former Bishop of Namirembe Diocese, Dunstan Kasi Nsubuga, visited them while still fellowshipping in the papyrus church.
The breakaway Christians identified an empty piece of land adjacent to their church and approached the owner, Princess Evelyn Nachwa, a daughter of Kabaka Daudi Chwa II, who reigned between 1897 and 1939.
Nachwa was the wife of the late Balunga who lived in Church zone in Natete, near the former Mwana Mugimu, opposite Brain Button Grammar School.
The documents indicate that Nachwa accepted to meet a delegation of Christians who visited her home in 1979. She offered the land to the church purposely to protect a well, a well-known cultural site where water that served a newly installed king during the coronation ceremony at Naggalabi was drawn from.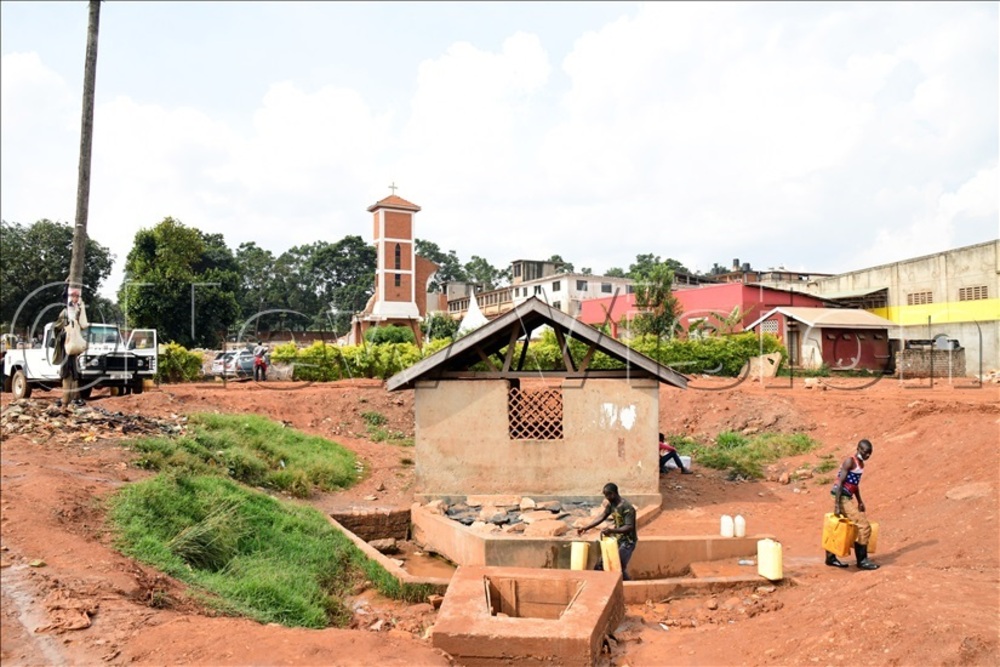 The well is under the custodianship of a Ngeye (Colobus Monkey) clan.
SH200,000 OFFERED
According to available information, the Christians offered her sh200,000 and later when she came for joint prayers, members of the Mother's Union offered her a gomesi as a token of appreciation for the offer.
The Christians then started the construction of the church. The project, however, proved too costly for them and they instead built a smaller church initially. They later built a larger one. The smaller church and the modern big one were both demolished on Sunday, August 9.
On the church ground was a nursery and primary school as well, which was also partly demolished. According to records, one Mrs. Kagumya had started the school in the first small church, which she later surrendered to the church.
When New Vision visited Princess Nachwa's home in Nateete-Busega on Saturday, a woman refused to open, saying they were tenants who did not know anything about the history of the home.
Neighbours however, told New Vision that one of Nachwa's sons, identified as Stephen Nakibinge stays in the house. New Vision learnt that most of Nachwa's children are abroad and have constructed rental units behind the main house. Some neighbours said one of Nachwa's daughters is the mother of one of the city's prominent pastors.
LOCAL COUNCIL CHAIRMAN BLAMES GOVERNMENT:
Emmanuel Kizza, the LC1 chairman of Mutaawe zone, where the demolished church is located, blamed the authorities for failing to intervene in the land wrangle promptly. He said for long there have been complaints in the area that Mwanje, who fronts himself as an agent of the Asian investors, was using force and manipulation to acquire land.
He said through Mwanje, the company owned by the Asians had evicted many people in order to expand its premises. Kiiza said in March this year court bailiffs led by Hassan Kirunda, with the support of the Police and military went to evict St Peter's Church in Ndeeba.
He said a man who identified himself as Kajoba claimed that he was the rightful owner of the land, but the LC officials intervened to stop the eviction .
The local leaders later approached the Kampala Resident City Commissioner, Faridah Mpiima and lands minister Beti Kamya who visited the scene. He explained that the LC officials asked the minister to reconcile the two groups and save the church from demolition.
He said a meeting agreed to halt the eviction and the Police were deployed in place to guard the area. Kiiza said rumours continued to circulate that the church was to be evicted and there was no update from Kamya and Mpiima on the efforts at reconciliation.
He also said the church authorities did not show seriousness when dealing with the matter until a gang of youth hired from Kisenyi went and, with backing of security personnel, demolished the church on Sunday night.
"We were surprised that the demolition was done without informing the area LC and at night, which is unlawful," he said.
On Friday, President Yoweri Museveni visited the area and promised that the church will be rebuilt and all people involved prosecuted. Museveni had earlier directed the State House Anti- Corruption Unit, headed by Lt Col Edith Nakalema, to investigate the demolition.
SENIOR POLICE OFFICERS CHARGED, REMANDED
On Thursday, 19 people including six senior Police officers were charged and remanded to Kitalya Prison over the demolition of St Peter's Church. They include SSP Rashid Agero, 59, the Field Force Unit (FFU) commander Kampala Metropolitan area; SP Martin Odero, the FFU Kampala Metropolitan South zonal commander; SP David Epedu, 34, the Katwe Police Divisional commander and ASP Isabirye Kaloli, 33, who is attached to FFU, Katwe.
Others are ASP Mugira Yeko Kato, the OC Station Ndeeba Police Station, AIP Anthony Kiro and Cpl Richard Kasule. The other people who have been charged and remanded are Ali Lubega, Badru Ssekitto, Hamza Kiberu, Abbas Mutebi, Ali Kaliika, Simon Matovu, James Kisirinya, Bashir Muruti, Andrew Mujuzi, Munir Bbosa, and Muhammad Kawooya.
However, Mwanje who claims to be the owner of the land was not produced in court although his name was on the charge sheet.
The suspects appeared before Makindye Court Grade One Magistrate Jude Okumu. They were charged with conspiracy to commit a felony, theft, disobedience of lawful orders and malicious damage to property. According to the Penal Code Act, the offences, on conviction, attract a maximum jail sentence of two, seven and 10 years, respectively.
OTHER COMPLAINTS AGAINST DODOVIKO MWANJE:
According to Phinehas Ssengendo, the overseer of the Redeemed Church of Christ, several others in the area have been living in fear after Mwanje threatened them with eviction.
Ssengendo said one only identified as Kiggundu who had a home near the church was forced to leave.
Another neighbour, identified as Mulwana Mmere-egulwa also left the area under similar circumstances.
Another businessman, a spare parts dealer in Kisekka Market, Charles Bosolo Mukasa who owned Lica Hotel, next to Mwanje's building died a day after St Peters church was demolished.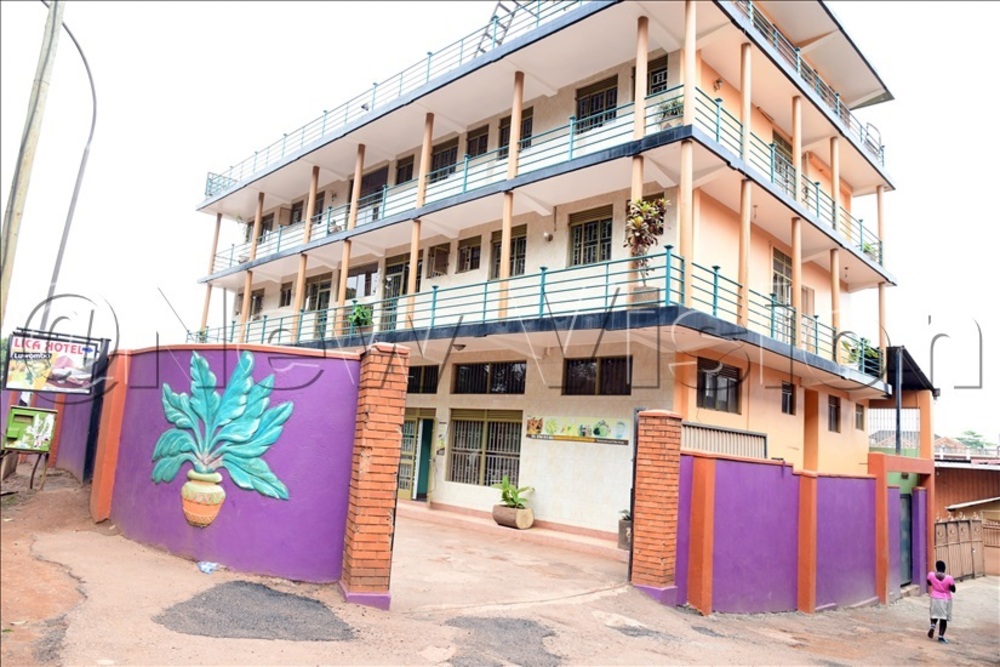 According to Ssengendo, Mukasa had been battling with Mwanje in court. He allegedly wanted to take over Mukasa's plot where the hotel stood. According to residents, Mukasa who was battling high blood pressure was rushed to hospital on Monday where he died. His death has been attributed to shock following the demolition of the St Peter's church.
Paul Sserunyange, the proprietor of Buddukiro Auto Spares who owns a plot of land next to the demolished St Peter's Church, told New Vision he had just been released from Kitalya Prison where he was jailed on allegation of forgery, theft and intermediary criminals trespass over land.
He said he was detained on June 2, 2020 after he was summoned to the land division at th e Criminal Investigations Directorate headquarters in Kibuli. He was charged at the court in Makindye and remanded at kitalya for two and half months before he was released on bail.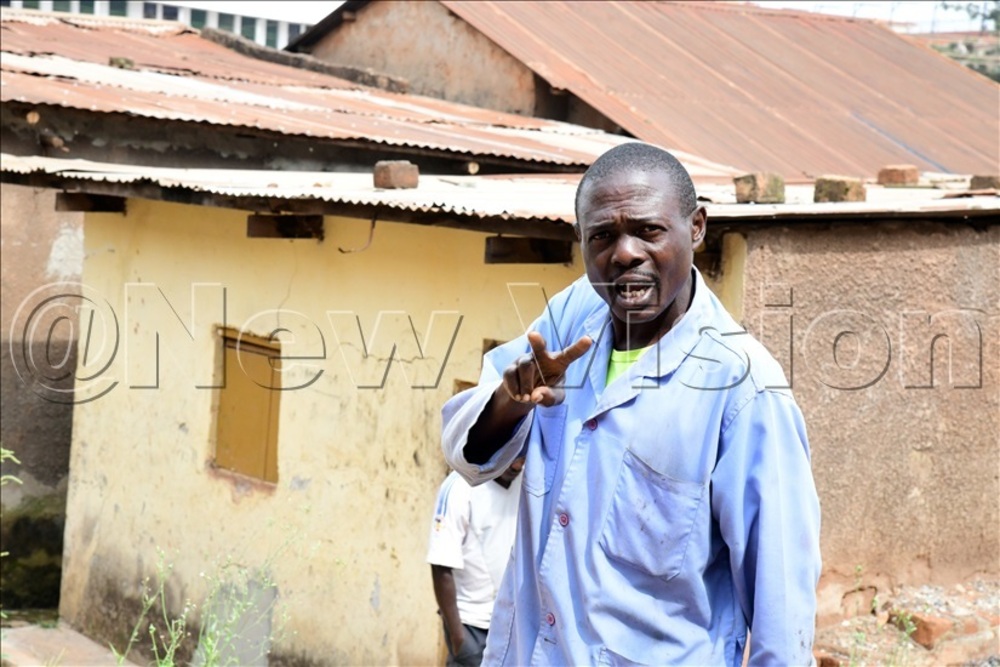 Sseruyange says Mwanje approached him and asked to see a copy of his land title since they were neighbours.
Sseruyange says later, relatives of people who sold him the land, recorded statements with the Police taht je stole their land title. He suspects the relatives were instigated by Mwanje.
Sseruyange maintains he bought the land in 2008 from Margaret Namukasa, daughter of the late Jane Nalubega, who has also bought the land from George William Kisitu, the original mailo landowner.
"In 2019, Mwanje bought two plots of land behind mine but he approached me asking to sell him mine, saying he wanted to expand and wanted to give a lease to Chunese investors but I refused," Sseruyange explained.
He alleged that Mwanje then approached the late Kisitu's children who claimed that Sseruyange's title was forged and they demanded for sh250m as compensation and return of their title.