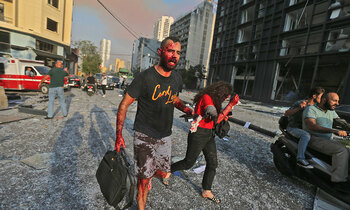 WARNING: Some viewers may find some of the content below distressing

The powerful explosions that rocked the port of Beirut on Tuesday left "people dead and injured", the Lebanon's National News Agency reported.

Georges Kettaneh, the president of the Lebanese Red Cross, referred to "hundreds of wounded" in a statement on Lebanese LBC television, adding: "We are overwhelmed by phone calls."

Lebanon's Prime Minister Hasan Diab has declared Wednesday a day of mourning, and President Michel Aoun called for "urgent" defence council talks.

General Security chief Abbas Ibrahim has said this might have been caused by explosive materials confiscated years ago and stored at the city's port.

"It appears that there is a warehouse containing material that was confiscated years ago, and it appears that it was highly explosive material," the senior security official said, adding that an investigation would be launched into the explosions.