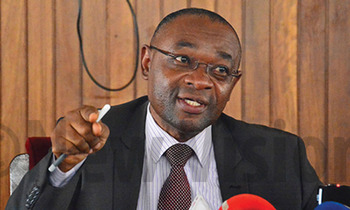 POLITICS
Minister for local government and Igara East Member of Parliament, Ralph Magyezi has clarified on the rumors that have been circulating on social media that he is not contesting for the same seat in the incoming general elections.

While appearing on one of the radio stations in Bushenyi district on Saturday afternoon, Magyezi thanked people of Kyamuhunga for standing with him and promised to leave spacefor someone who is willing to take over because he has completed what he promised them.
He has denied the rumor that he is creating another constituency which he is expected to contest in saying the newly created constituencies need a lot of money.
He asked Igara West voters to vote for a leader who will promote unity amongst them which he also promoted and should not vote for someone who will bribe voters because he is incompetent.
"We don't want enmity in our constituency. If you find someone that segregates in religion, kindly do not vote for him. I am a catholic but I built churches and mosques," he said.
"What has been said is arumor that I feared the race and left the seat for my opponent." Magyezi blasted the source saying he has not withdrawn from the parliamentary seat because he has not even started the race.
"Those people are even aspiring. I cannot tell who are contesting for the seat. There are some people who are circulating pictures yet they are not nominated, I can ask them to be stopped from participating in the election. How can I withdraw from the race I have not started?" Magyezi asked.
"Let me now make it clear. I will not stand in the incoming general elections for Igara East Member of Parliament. I am not yet in the race and no one is nominated yet. I have served well my people.
I have revised my manifesto I gave them; I have at least done what I promised them. I am therefore asking my people to let me rest as your Member of Parliament because I have done what I promised you. What I have not done, I am also a human being," he said.

The Igara East Member of Parliament is most popular for his role in the passing of the Age Limit Bill. The controversial Bill was passed on December 20 2017, and the President assented to it in January 2018 . This is perhaps one of Magyezi's greatest achievements while he served at Parliament.