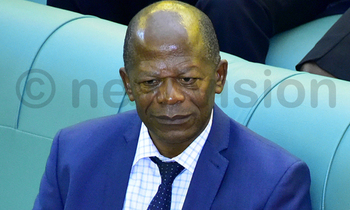 The government has finalised plans to take over the defunct Busoga University, state minister for higher education, John Chrysestom Muyingo has disclosed.
Muyingo made the remarks on Thursday while touring Busoga University main branch in Bugiri.
He said the ministry of education had visited all the campuses and examined all its assets and proved that it is worth turning into a government university.
"Any time from now the university will become operational," he said.
Muyingo said he will soon meet President Yoweri Museveni to furnish him with a report about the findings so that he can instruct the relevant authorities to start clearing debts the university had accrued.
He hailed the Church of Uganda for donating big chunks of land that will be used to set up structures to house the university projects in the future.
The takeover had been delayed after a group of former employees sued Central Busoga Diocese claiming they had not been earlier consulted about the transactions being conducted between the government and the church.
However, during recent meetings conducted between church officials and the Auditor General, the employees later decided to withdraw the case from the court so as to allow a smooth handover to the government.
Muyingo hailed members of the task force that has been overseeing the takeover for doing a great job of advocating from both the government and aggrieved employees.
He assured locals and political leaders that the university is to become operational soon but with the guidance from the President on which disciplines to be handled.
"Everything has been done and what we are waiting for is guidance from the President so that we know what courses and curriculum that will be offered," he said.
The Iganga LC5 chairman Patrick Kayemba said some politicians were taking advantage of the misunderstandings between the church and the former employees to speak ill of him saying he had failed to execute his duties as chairperson of the task force.
Kayemba said having the university in the area will help spur development besides creating job opportunities for youths in the area.
Patrick Wakula the Bishop of Central Busoga Diocese, said the university had accrued debts amounting to sh16b but was optimistic they would be cleared by the government.
Wakula urged the government to follow guidelines given by the church whilst in operation saying it still has a stake in the running of the university.
"We agreed that there should not be a mosque on the university since it is church-founded," he said.
He urged Ugandans to vote the ruling NRM government during the forthcoming presidential and parliamentary elections saying it is the only government determined to improve education levels amongst the population.