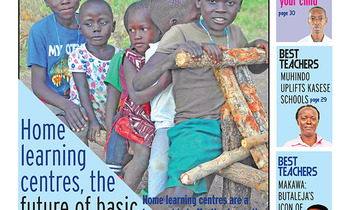 HOME learning centres are easy and cheap to establish and maintain. They use locally available materials for instructions - materials learners easily identify with like simsim, cowpeas, beans, and maize grain.

For this reason, the Permanent Secretary Ministry of Education and Sports, Alex Kakooza recommends that the home learning model is the best for vulnerable communities across the country if every child is to attain basic education.







"I think communities should adopt this model given the resource constraints in government," Kakooza said in a recent tour of the home learning centers in Northern Uganda and West Nile.


"As we have seen, nothing is useless in life. Bottle tops are being used during lessons for counting in most of these centers we have visited. As the country strives to promote early childhood education as a means of improving the quality and standards of Universal Primary Education, this model should probably be the answer to resource constraints," Kakooza argued.
Details in the New Vision. Subscribe to our #EPAPER; bit.ly/3d3acBF | #VisionUpdates