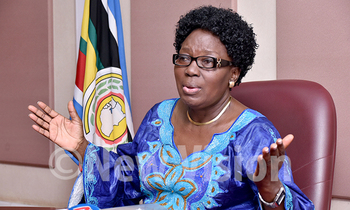 POLITICS 2021 ELECTIONS

Speaker of Parliament Rebecca Kadaga has said those opposing her from within the government are doing so because she is fighting corruption.

Kadaga was speaking to NRM party zonal coordinators in a meeting at Munyonyo where she met the leaders to solicit support for her candidature for the position of 2nd National Vice Chairperson in the forthcoming party primaries.

"I don't like corruption and I speak against it. This causes people who are corrupt and yet highly placed to say I do not like the party and I am speaking against the party. This is wrong, the party has no agenda for corruption, it is individual.

Let us as a government be straight. If the money is for a school, let it go and build a school. This is why I conflict with people in the party because I tell them to stop being corrupt," Kadaga told the meeting.

Kadaga is the incumbent and is facing competition from Lands State minister Persis Namuganza. She reminded the meeting that this is the first time she is being opposed for the position.

She, however, said that the argument that she is old is not valid since the party has fronted a person older than her for the chairmanship and the presidency.

"How can you claim you support President Museveni, the party leader who is over 75 and yet you are standing against me because I am old, yet I am younger than the party leader, then that does not make sense," Kadaga said.