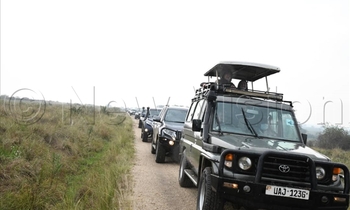 All pictures by Eddie Ssejjoba
The Uganda Wildlife Authority (UWA) Executive Director, Sam Mwandha, has apologised to the European Union (EU) ambassadors in Uganda for failure to see the tree-climbing lions in the Ishasha sector inside the Queen Elizabeth National Park.
He also apologised on behalf of the animals that decided to move, on seeing a big convoy approaching their territory. The UWA staff said they had tracked the animals and led the delegation to their location but on seeing a convoy of vehicles, they moved further inside.
A long wait did not yield any results and the tourists were promised that they would be able to see the lions after moving to the upper side of the park.