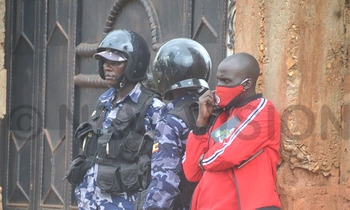 POLITICS
JINJA- Police on Thursday foiled a meeting by the People Power pressure group in Walukuba/Masese division Jinja.

Members of the People Power pressure group led by their coordinator in Eastern Uganda, Moses Bigirwa and Samuel Lubega Mukaaku People Power's Deputy Head of Election Management Committee held a meeting at the residence of Jinja East Municipality Member of Parliament, Paul Mwiru.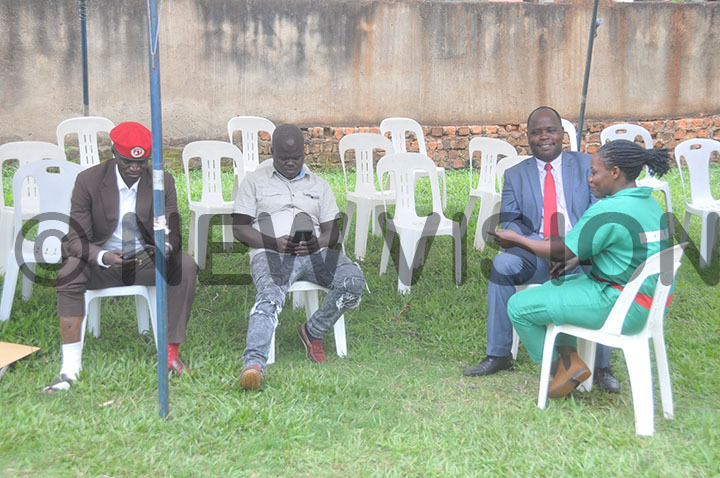 The meeting was meant for candidates vying for various leadership positions in the next general elections particularly those who hail from Eastern Uganda to return their nomination forms to members of People Power's Election Management Committee.

Anti-riot Policemen led by Jinja Police Commander, Ahmed Hasunira stormed the venue, foiled their meeting and ordered politicians to leave.

Police chased candidates who were returning forms and closed the gate to the entrance.

Hasunira argued that besides not having Police clearance to hold a political meeting, the conveners had also flouted the COVID-19 guidelines that banned public gatherings.

However, Police's action angered People Power candidates and their supporters who then insulted Police as the gathering continued to grow.

This prompted Police to fire teargas in order to disperse them. Several canisters of teargas were fired along various roads to disperse supporters who had gathered.

Hasunira said government started the intention of protecting Ugandans against Coronavirus sometime back in March adding that Police was deployed to see that people are implementing the Ministry of Health guidelines against the spread of COVID19.

"We are emphasising that if you want to organise a ten-people meeting, then you have to write officially to the Jinja City COVID taskforce and notify it so that it sends a surveillance team and gives you a go-ahead basing on the environment," Hasunira said.

He said that as Police they would not allow the attraction of crowds by those people with political interests adding that population is key to development in any country so they were there to protect people.

People Power's Deputy Head of Election Management Committee, Samuel Lubega Mukaaku argued that they organised the meeting and were following Ministry of Health guidelines like keeping social distance, wearing masks and washing hands with soap because the handwashing equipment was available at the gate.

Lubega accused Police of making a biased decision against all activities and plans of opposition political groups, yet their NRM party counterparts are successfully conducting similar meetings in the area.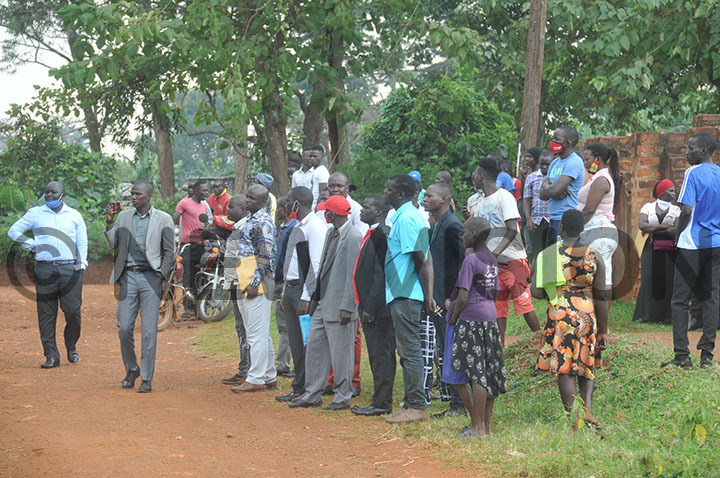 He however said that they would not backtrack on their plans, saying that they are racing against the Electoral Commissions road map that requires them to present intending candidates before August.

Moses Bigirwa, the People Power coordinator in Eastern Uganda vowed that they would insist on holding meetings despite the threats by security.

Bigirwa said that they would mobilise their supporters to resist any form of political suppression ahead of the 2021 general elections.

"Our NRM counterparts like the Speaker of Parliament Rebecca Kadaga among others picked and returned their nomination forms but why is it that Police is failing all plans of opposition political groups," Bigirwa asked.

He said that by organising regional meetings in order to receive nomination forms of their candidates, they wanted to decongest People Power offices in Kampala where various candidates flock to return forms.