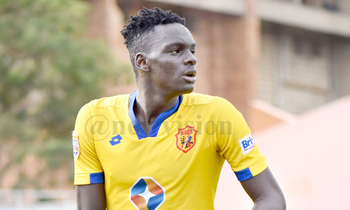 Thierry Henry is a legend.
Following an impressive career that span around 12 years in competitive football, the former Arsenal star did not only prove his precious qualities but faced some of the finest players in world football.

If anyone qualifies to define a quality player, the former French World Cup winner and Barcelona star does.

And this is precisely why his decision to sign Ugandan left-back Mustafa Kizza for Montreal Impact is a huge vote of confidence to the young lad.

Of course, Henry has shared a pitch with another Ugandan in Ibrahim Sekagya at New York Red Bulls and that too might have helped.
But, the biggest possibility is that after assessing footage of the KCC FC star, Henry couldn't hesitate but recommend that the 20-year-old be brought in on a two-year contract with three option years.

"We are really happy to acquire one of the best young players from Uganda," Montreal Impact sporting director Olivier Renard said.
"Mustafa Kizza is a modern attacking left-back with great crossing abilities and huge potential. He is good on free-kicks and his height will also help on set pieces."

Although no transfer fees were listed, there is a possibility that the deal is in the regions of $500,000 (sh1.9b).

Kiiza has indeed just completed a career-defining move to Canada.

He will look back to this transfer as one that ultimately handed him the biggest break to elite professional football.

All that he needs to do is register an impressive start under Henry in his first season.

Henry's well-established status in world football -at least as a player will, with any approvals, earn the Ugandan a golden opening to Europe -his intended final destination considering his age bracket.

Although his deal officially starts on August 12, Kizza will, for now, continue working on his fitness with KCCA FC, under a loan arrangement due to the COVID-19 pandemic.

He will not be considered for a place on Montreal Impact's international roster, although Montreal has the option of flying him into Canada if the global health situation improves.

Montreal are currently playing in the 'MLS is Back tournament' and have a 0-2-0 statistic heading into their final group stage game tonight against D.C. United.

Irrespective of their prospects in the current tournament, Montreal are clearly looking to the future and are delighted to have secured the services of one of Uganda's most promising football talents.

Kizza's statistics and profile with his current employers KCCA suggest Montreal have added goals, assists, and international experience to their ranks.

In just the concluded season, Kizza registered five goals and 12 assists from his defensive position.

Besides his four goals in as many appearances with the local-based Cranes side, he has gathered considerable experience representing KCCA in over ten CAF Champions League games over the last two seasons.

His prowess from set-pieces is legendary and has a huge presence going forward. Kizza is a natural athlete and has outstanding pace - two qualities that will set him apart at Montreal.

Mike Azira is the other Ugandan at Chicago Fire in the MLS.