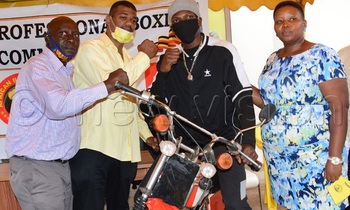 The Uganda Professional Boxing Commission has eased World Boxing Federation (WBC Africa) heavyweight boxing champion Shafik Kiwanuka's transport worries with a donation of a motorbike.
UPBC president Salim Uhuru in the company of treasurer Maureen Mulangira and Abbey Mugayi presented the Yamaha Sport 125CC bike at the commission's offices on Wednesday.
"I thank the UPBC for getting me this bike that is going to ease my movement as I go for training and move around town. I think it is high time President Museveni also opens up our gyms and other places of work because we have endured a lot in this period," Kiwanuka stated.
"We also call on the president to fulfil his pledge to the different athletes, including me because that money can greatly help us in training and through this COVID situation,"
UPBC president Salim Uhuru after handing over the sh3m bike advised Kiwanuka to take precaution while riding the machine.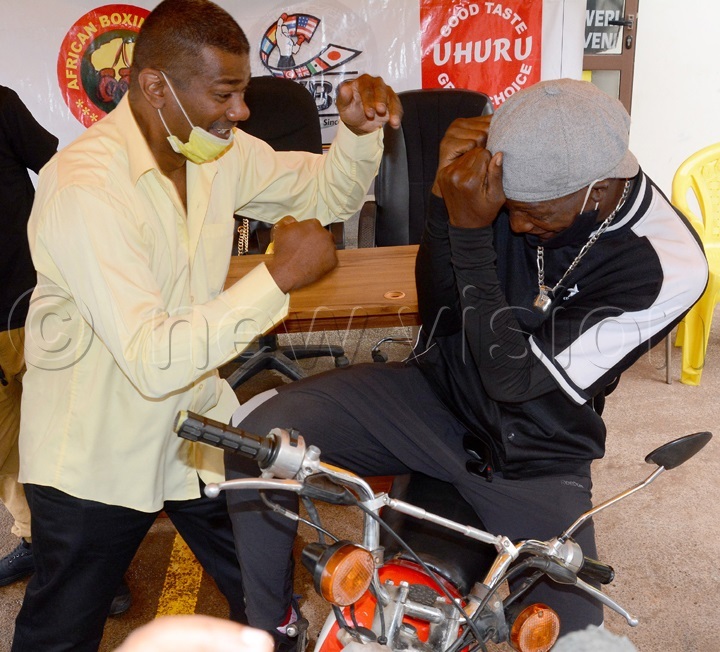 "I want to thank my technical team who agreed to buy a motorbike for Kiwanuka and for promoter Mwesigwa for approaching us to help during this period of Covid-19," Uhuru said.
"But I would like to caution Kiwanuka to be very careful while riding this machine because recklessness on it might cause an accident that can easily affect his career. Be extra careful Mind your safety and that of other road users for the good of your career that you're pursuing,"
"We have started with Shafik because he was the first to approach us but we call on others to love what they are doing and work hard," Uhuru said.
Kiwanuka was preparing to face Egyptian Abdallah Sammy in May, before the coronavirus pandemic, caused a lockdown in March.
He had earlier defeated Zimbabwe's Thamsanq Dube to win the World Boxing Federation All-Africa Heavyweight Title in a 10-round duel at the International University of East Africa (IUEA) auditorium in December.
He is now hoping the situation can quickly return to normal in order to continue building his career towards a World Championship title shot.