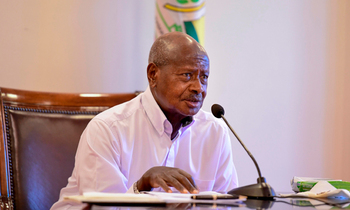 Families of all Uganda's sports medalists finally have reason to celebrate.

President Yoweri Museveni has promised to reward all the country's outstanding performers whether alive or dead.

Museveni made the promise in a Monday Covid-19 national address where he also touched on departed public figures Jimmy Kirunda and Maj. Gen. Kasirye Gwanga.

"By copy of this message, I ask the Ministry of Education to compile for me all the exemplary Ugandan sports performers at the African continental level, the commonwealth or the Olympics since 1954 when Etolu, the high jumper, represented Uganda at Perth, Commonwealth Games in Australia.

I remember his picture very well. Anybody that won a gold, silver or bronze medal, should be rewarded whether alive or dead. If dead, the family can benefit," stated Museveni.

On a surprising note, Museveni, however, revealed that he had never heard of Uganda Cranes captain Kirunda.

"I, actually, never heard of Kirunda until when he died. Why? It is because for 16 years, 1971-1986, we, the freedom fighters, were cut off from and we were not concentrating on the pleasure and leisure activities that were going on in Uganda."

He said that being a footballer himself, he used to avidly follow, not only the game in East Africa, but also all sports, especially, athletics.

"I would know all the names such as the boxers, Seruwagi and Tom Kawere. The latter got a silver medal at the Commonwealth Games, at Cardiff, in Wales, UK.

Sprinters like the Goan from Kenya, Serafino Antao. Footballers like Kadenge of Kenya and David Otti of Uganda."

Museveni, however, noted that his close attention to sport, was up to 1966 when Uganda entered into the political crisis of un-constitutionalism.

"Right from that time up to 1986, my antennas for pleasure and leisure were switched off and attention went to the struggle.

I would only pick up a few extra-ordinary performances by East African sports persons such as Kipchoge Keino, with a record for 1500metres in Mexico City, 1968, I think, Akii Bua's 400 meters hurdles record in the Munich Games, 1972 and a Tanzanian Army Officer, Filbert who won the marathon for one of the Olympic events.

Hence, I had never heard of our Kirunda, the footballer."

Museveni's promise follows another presidential grant that has had many of the recent stars benefit.

Gold medalists at Africa and beyond are entitled to sh5m, silver medalists sh3m and bronze medalists sh1m monthly stipends. There have however been complaints of inconsistencies in payment. This has been attributed to lack of a sports policy to back this initiative.