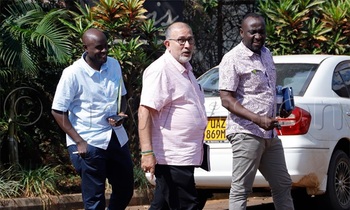 Federation of Motorsport Clubs of Uganda (FMU) president is willing to work with the Motorcycling Association of Uganda (MAU) for the good of the sport.
Dipu Ruparelia made the pledge following a meeting between the two parties at the National Council of Sports (NCS) offices in Kugogo on Monday, so as to harmonise their relationship that was soured after MAU was born last year.
"I want to work with them and that is why we are soon instituting a constitutional review committee so that they can bring in their input and solve their grievances," Ruparelia said.
"I'm only disappointed that my brothers seem not to be ready for talks but we shall continue extending an olive branch to them," Ruparelia added.
Peter Ndiwalana the MAU spokesperson said: "We have not reached any agreement. What they are proposing is different from what we had wanted and we have to consult our stakeholders first."
Ndiwalana explains that FMU had proposed that MAU gets involved in its constitutional review process, so that their (MAU) grievances are addressed.
The federation had also proposed that MAU meets the three motorcycling clubs UMX, Enduro and SMOC so that they get a common agreement to be sent to the FMU assembly.
The other suggestion is for motocross to have a committee in FMU that runs motocross affairs independently and operating its account separate from the motor rallying sector.
In December last year, a section of motorcycling parents and riders decided to form MAU to manage the sport in the country, something that FMU did not accept.
In February, MAU went on to organise their inaugural challenge before organizing the Women's Day Quad Challenge in March at the Uganda Motorsport Arena in Busiika, both of which were very successful.
This prompted the first meeting that was held in March 2019 in which the two parties agreed to cease hostilities that had spilled into the sport and stakeholders alike.
The meeting on Monday was chaired by NCS general secretary Dr Patrick Ogwel and had Ndiwalana, Julius Bukenya, Bernard Muhindo, and Denis Musede all from MAU, while Ruparelia, Leila Mayanja, Kisitu Mayanja, Allan Mugisha, Abdul Kateete, Tendo Mutale and Jimmy Akena represented FMU.
The others in attendance were NCS assistant general secretary in charge of technical matters David Katende and Ivan Nuwamanya among others.