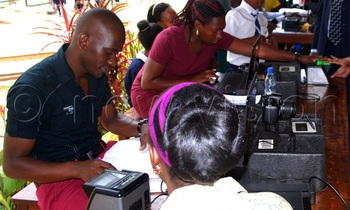 The National Identification and Registration Authority (NIRA) has resumed issuance of national identity cards, months after operations were halted over COVID-19.
In the first phase of reopening services, the authority started issuing national cards on Monday last week in the three districts of Wakiso, Mukono, and Jinja.
The cards are issued at the respective sub-county offices of the three districts and will run for 17 days in Wakiso and 13 days in Jinja and Mukono.
According to Gilbert Kadilo, the NIRA public relations and corporate affairs manager, services in other areas will be reopened in other areas in a phased manner.
"Every client visiting the issuance centres is encouraged to observe the ministry of health guidelines to curb the spread of COVID-19; wear a mask, observe social distancing, wash hands with soap and an alcohol-based sanitizer," he stated.
The three pilot districts have the highest number of processed national ID cards awaiting collection by their owners, and the current exercise is aimed at decongesting services, Kadilo said in an interview with this reporter.
NIRA data safe
On Monday night, just hours after NIRA resumed issuing cards in the three districts, the authority's offices in Luwero district were broken into.
Kadilo confirmed the incident but said no cards were stolen nor personal data breached when unknown persons stole eight laptops, desktop computers and eight digital cameras.
"NIRA would like to assure the public and the residents of Luwero in particular, that all personal data captured for purposes of National ID registration is stored securely and treated with utmost confidence, in accordance with established laws on data privacy," Kadilo said in a statement.
Police is still investigating the incident. According to Kadilo, already printed national IDs for applicants in Luwero district are secure and will be issued when operations return.
The incident preceded queries by Parliament into NIRA over alleged mismanagement, including that the authority failed to produce IDs for school-going children below 16 years.
Parliament on Friday ordered the Auditor General to carry out a forensic audit into NIRA's contract awarded to the defence ministry for its premises at Kololo independence grounds.
Last month, President Yoweri Museveni ordered the firing of Judy Obitre-Gama, the executive director of the NIRA over failing to satisfactorily issue National Identity cards.
In a letter to the internal affairs minister, Gen. Jeje Odongo, President Museveni instructed the minister to work with the NIRA board to find a suitable replacement.
"I have been informed that the contract of the current executive director is due to expire. Given the problems faced by NIRA, especially relating to the issuance of national identity cards, there is a need to identify a new executive director, preferably with legal or information technology background," Museveni said.
According to Muwanga's 2018 audit report, the processing of new applications was delayed by an average of 156 days in 2015, 91 days in 2016, and 100 days in 2017.
NIRA also reportedly failed to account for sh8.4b paid to various officials as facilitation during the learners' registration exercise and purchased 2,000 laptops and 6,000 laptop batteries for the project, which, according to the Auditor General, were overpriced, leading to a loss of sh2.7b.