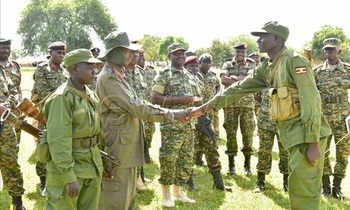 Crime COVID-19
Joseph Luzige, the Mityana district chairperson, has clarified circumstances under which he was assaulted by soldiers in Mityana.

In a letter dated July 8, the district leader thanked the army leadership for taking action against the soldiers who assaulted him.

Luzige said while he was driving through Mityana town, he came across a group of soldiers caning and assaulting a woman who had been carried on a bodaboda.

She fell down and got injuries as the beating continued. Luzige parked his car and asked the soldiers why they were beating people.

"One of the soldiers who was visibly drunk assaulted me and dragged me up to the Police station," Luzige explained.

The assault was captured by someone on video and shared.This attracted the attention of the army and it took action.

In his letter, Luzige thanks the army and other security agencies for the way they handled the matter.

"The Uganda People's Defence Forces (UPDF) has assured me and the people of Uganda that they condemn the assault of not only myself, but of any other person in the country and all soldiers that assaulted me are under custody," Luzige said.

In a related development, the army is set to review the deployment mechanism to enforce COVID-19 measures, UPDF spokesperson, Brig. Richard Karemire, has said.

The review comes against the backdrop of a public uproar about the conduct of security operatives, especially the Local Defence Unit (LDU) personnel during curfew time.

Karemire recently said an investigation into the manhandling of Luzige has commenced.

"This incident has no doubt attracted a lot of attention from the members of the public and the leaders in Mityana district and beyond.

The UPDF regrets this gross act of indiscipline that is not characteristic of the UPDF as a people's army," Karemire said. He said the UPDF's Chief of Defence Forces, Gen. David

Muhoozi, has already sent a team of senior officers to Mityana to make an on-spot assessment and confer with both the district security committee. He said the team is yet to establish the circumstances surrounding the whole incident.

Four arrested

Karemire said the UPDF has arrested those who were involved in the incident and will soon be produced before the military court.

Those arrested are L/Cpl Simon Peter Anguria and Pte Somin Odeke (UPDF), Caroline Musundi and Isaac Okello (LDU personnel).

He said the UPDF wishes to reiterate its full commitment and loyalty to the people of Uganda and will always remain subordinate to the civilian authority as provided for under Article 208 of the Constitution.

Measures to improve

"A complete review of the deployment will be conducted. Don't blame the entire UPDF force because of the few undisciplined individuals. We recruited these people from our communities. They are not from Planet Mars," Karemire said.

However, Karemire said the UPDF continues to educate LDUs, through various trainings, on various laws and political education.
Karemire said LDU officers will also be given name tags for easy identification.

More appeal for justice

Since last week, about five people have pinned security agents in Mityana over assault during operations. Among them is Mariam Namakula, a resident of Kampala Rd LC in Mityana central, whose leg got injured.

Kassima Habimana, a resident of Thoban Road, Mityana, said he was attacked by security officers in uniform as he was riding to his garden.

After being discharged, Police issued a receipt of Express Penalty scheme to Habimana to pay sh40,000 before releasing his motorcycle.

Additional reporting by Luke Kagiri