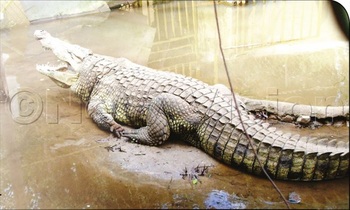 PANIC| CROCODEILES| FLOODS
Residents of landing sites adjacent to the source of the Nile in Jinja are living in fear after crocodiles escaped from a nearby reptile park. Three young crocodiles and a mature male reportedly swam away into Lake Victoria, after a reptile park got flooded, recently.
According to Severino Okello, a fisherman at Bugungu landing site, the reptiles took advantage of the rising lake levels to swim out of the cages that had been filled with water.
"The reptile park had numerous wild species. They included cobras, pythons, tortoises, monitor lizards and puff adders," Okello told New Vision on Sunday.
He added that the fate of the rest of the reptiles was not clear, since the floods have partially submerged the lakeside facility.
"As residents of nearby landing sites, we are worried. Those beasts can start feasting on our children or even us," Jane Namwase, a resident of Rippon village, said.
GENESIS
Sam Cheptoris, the water and environment minister, said the water level of Lake Victoria has risen beyond the historical highest mark of May 1964, flooding the lake.
"This rise in water levels has resulted in displacement of beachside establishments in many areas. It is more like nature reclaiming its habitats," Cheptoris said.
He blamed those affected for having encroached on the lake's natural buffer zone.
CURRENT STATUS
Charles Kabale, a charcoal dealer at Rippon landing site, describes the crocodile escape as disastrous.
"Whereas this poses a great danger to all of us, fishermen laying nets in the zone need to be extra cautious. Those reptiles are patient hunters, striking when least expected," Kabale added.
Pastor George Iyungu, the proprietor of Jinja Reptile Park, said the fate of the animals started hanging in balance after floods cut off the route to the premises.
"We can no longer access the partially flooded territory. This state of affairs meant the animals started starving, prompting some to escape," he disclosed.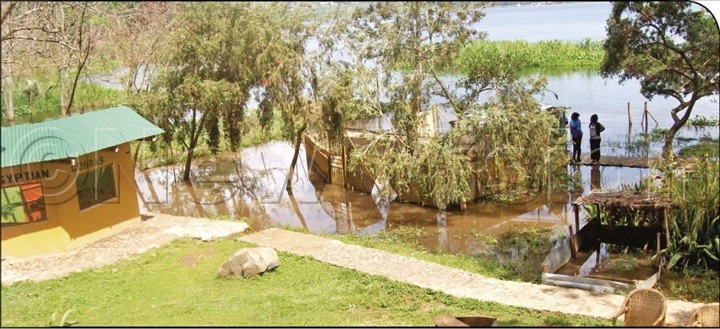 Iyungu, however, insisted that only two of the reptiles fled, despite conflicting reports that the number could be higher.
He revealed that they rescued the female crocodile at the park and subsequently moved it to a new location.
Bashir Hangi, the Uganda Wildlife Authority (UWA) communications manager, said the authority was aware of the escape of the animals.
SOLUTION SUGGESTED
Hangi emphasised that UWA has been hunting down wild animals such as crocodiles from Busoga sub-region for relocation to safe havens.
"This has been done in Mayuge, Namayingo and other areas. "Once they pose a threat to human life, we definitely relocate them," he assured.