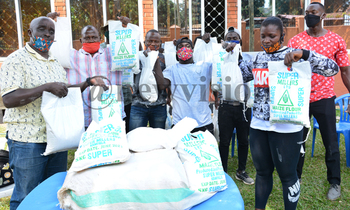 A friend to US-based Uganda powerlifter Roy Mubiru, Ddumba delivered the food that included 5kgs of posho and 4kgs of rice for each, through the RM Powerlifting and Crossfit Club manager Frank Kaheesi who handed it over the food to the lifters at the UOC offices compound on Saturday.

Kaheesi said the donation was solicited through Mubiru to aid the lifters who are currently struggling, their sources of income having been blocked and closed down due to the Coronavirus pandemic.

"Most of these people work in gyms as instructors, and some as bouncers at different events which were all blocked. Others were due to represent Uganda in international competitions which were all called off; so the support comes in handy," Kaheesi said.

"Because of the safe operating procedures required of us not all the athletes could come here but their food will be delivered and we are grateful to Ddumba for his kind gesture,"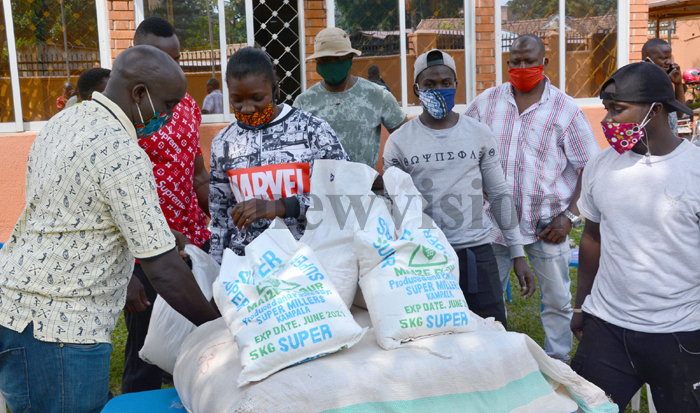 Having competed in the Beast Mode Roy Mubiru Power Lifting and Crossfit Championship at the Satellite Elite Fitness Center in Kisaasi last year, a number of powerlifters were gearing up to take the sport forward by participating in a number of local and international events.

Uganda had also been allocated a slot to host an African Powerlifting Championship under the Uganda Powerlifting Alliance in September which also cannot happen.

"We can only try to host it in February next year because even if the lockdown is lifted now, there will be little time for the athletes to prepare and we don't know when the government," Kaheesi noted.

Jude Alberto one of the lady powerlifters said the situation is not easy for them because they had invested a lot in training in anticipation for the competitions and now they had depleted all their savings and are in dire need of help.

"We were supposed to compete in qualifiers in Canada, Italy, USA and Russia yet these were some of the most hit countries, so we don't know when the situation will get back to normal," Alberto said.

"As athletes most of us work in gyms and are either instructors or coaches. But we have come to a situation where we have to struggle to fend for ourselves, so we had to send out an SOS through our director Mubiru who got us this aid,"

"The government relief did not reach most of us, so we call on more good-hearted people and the government to come to our rescue and consider us because we are also affected in the same way like the saloons, boda bodas and taxis.

"It seems sportsmen were forgotten and yet we are the ones that hoist the national flag at international events, and we also only earn from what we do in the gyms," Alberto stated