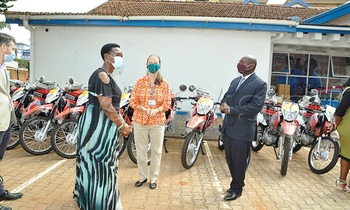 CHILD ABUSE |

In a bid to end cases of child rights abuses in schools and communities, the ministry of education on Monday received 11 motorcycles worth sh110m to be used in monitoring and following up cases of abuse among children.

The motorcycles were donated by Plan International Uganda and will be distributed in the districts of Bukwo, Kapchorwa, Kibaale, Kamwenge, Namutumba, Nebbi, Arua, Manafa, Tororo, Butaleja and Kagadi.

While receiving the motorcycles on behalf of the ministry at the event held at the Plan international headquarters in Kampala, Rosemary Seninde, the State Minister for Primary Education said the motorcycles have come at the right time when many children are facing all sorts of abuses both at home and in communities because of the closure of schools dues to COVID-19 pandemic.

According to Seninde, the ministry will ensure that the motorcycles are used by the district education inspectors to respond and monitor all cases of child abuse reported in the communities.

"Many cases that include defilement, rape, and torture in school, among others, have been reported to various education offices, however, because of lack of transport, many go unfollowed up. yet when some of these continue, they lead to many children dropping out of schools," said Senide.

Now with new motorcycles, Seninde said the district that is going to benefits will have no excuse for not following up cases of child abuse.

The districts that are going to receive the motorcycles have to ensure that they use them to what they have been distributed to do not for their use.

"The Chief Administrative Officer must follow up all the activities used by the motorcycles. They should also have budgets for fuelling and maintaining the motorcycles. In this COVID-19, the inspectors should use the motorcycles to traverse the schools to monitor and ensure that by the time schools resume, there are no hindrances to opening schools," Seninde said.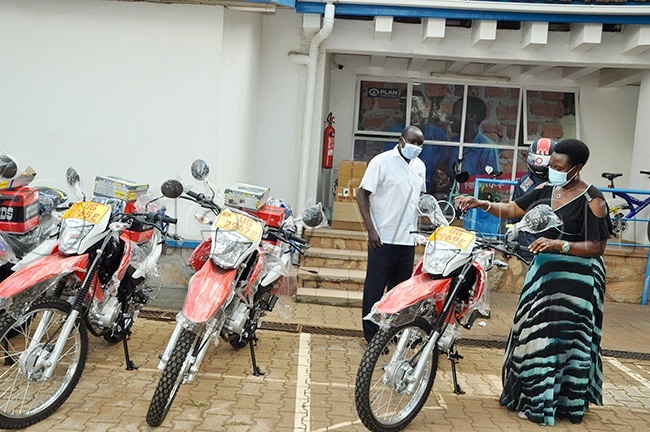 She warned parents who are always settling issues that affect their children with perpetrators, noting that this is punishable by law.

Ouvry Iveta, the Country Director for Plan Uganda said they implemented a social response mitigation project on behalf of the ministry of education, however during this projects, it was discovered that a lot of children were exposed to various forms of violence in schools and communities and many were not being followed up due to proximity.

It is against this background that Plan International decided to procure 11 motorcycles to be used by district education inspectors to follow up on the cases of child abuse on time.

"The motorcycles will go a long way to facilitate the district focal point persons to inspect and continue providing support to the schools' focal point persons to ensure the sustainability of the safe school environment for children," Iveta said.

Alex Kakooza, the Permanent Secretary Ministry of Education and Sports said until recently, violence against children was viewed as a normal way of disciplining children, not only in Uganda but worldwide. Children were abused at the hands of caregivers, teachers, and peers.

He explained that there has been a shift in thinking within the last few years about this topic and it is now viewed as a child rights violation.

"We believe that these motorcycles will be used to support the process of following up cases of abuse promptly and request that they are handled and maintained well," Kakooza said.

He called upon all stakeholders to join hands to support the creation of a violence-free environment and society so that even after the COVID-19 pandemic our children can return to school with no harm and encounters.