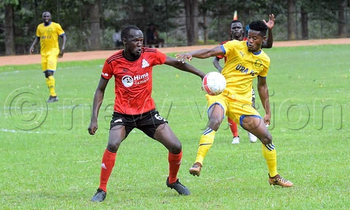 There is a huge sense of relief in the Uganda Premier League.
This follows world body FIFA's release of $1.5m (sh5.6bn) to member states to help them mitigate hardships being faced in the COVID-19 pandemic.
Last week we exclusively reported that local clubs were not only facing hard times, but were also headed for even worse should the pandemic persist.
New Vision also reported that Ugandan clubs being in one of Africa's worst pay structures averages salaries of sh0.5m per player.
FIFA has on the latest offer specified that the COVID-19 grant is for strictly clubs and women football.
"Both grants and loans can be directed by member associations to the wider football community in their respective territories, including clubs, players, leagues or others that have been affected," reads a FIFA release.
Clubs are entitled to $1m (sh3.7bn) while the balance is strictly for women football.
This should be a huge relief if FUFA for instance distributed the club money on a 50% ratio for UPL, 30% for Big League, 15% for Regional football and 5% for referees.
Each premier league team would get sh118.7m if half the clubs' money was divided equitably amongst the 16 premier league teams.
If an average of sh2m was paid to 30 club staff sh60m would be spent and league over sh50m would remain on the club account.
There would be an even more dramatic effect in women football that has an eight-team first division and 16 team second-tier membership.
With the $500,000 (sh1.9bn) to be divided on say a 60% (first division) and 40% (second tier) arrangement, the former would receive sh142.5m per team.
With women teams that are constantly crying for assistance, the latest FIFA grant would turn around the women's game in Uganda.
Clubs have welcomed the grant in unison and have stated that they can't wait for equitable distribution of the money not only to the top tier, but also the Big League.