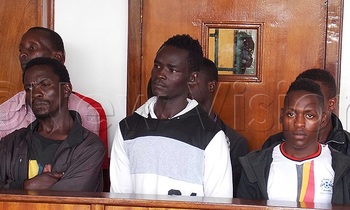 ENTEBBE - Eight people have been charged and remanded to Kasangati government Prison for allegedly mining sand from Lake Victoria.

The charged are sand miners, Douglas Ssengendo 43, Allan Matovu 30, Shemaiah Kukiriza 18 residents of Nkumba, Katabi Town Council in Wakiso district.

Others include Godfrey Lukyamuzi 40, Ivan Kigonya 19, Nsereko Ronald 20, Godfrey Mugerwa 18, all mechanics and Christopher Opio 20, a casual labourer.

The group was on Monday charged with three counts of reclaiming or draining a wetland on Lake Victoria waters, using unlicensed vessel and disobedience of lawful orders.

Grade One Magistrate, Joan Ketty Acaa read the charges to the accused but they denied them.

This prompted the trial Magistrate to remand them until July 7, 2020, when hearing of the case will commence.

"Since you have denied the charges and have no sureties, be remanded to Kasangati Prison until the July 7 for hearing of your case and reconsidering your bail application," Acaa ruled as she adjourned the case.

Prior, the prosecution led by Miriam Njuki informed the court that investigations regarding the case were complete and sought court for a hearing date.

The charge

It is purported that on June 9, 2020, at Kasenyi Lwanjaba on Lake Victoria waters in Katabi town council, Wakiso district, the accused, without lawful authority or excuse mined sand at Kasenyi Lwanjaba.

The accused were also found in possession of unlicensed vessel which is not acceptable on the waters of Uganda.

They also disobeyed lawful orders of the curfew that is intended to control the spread of the COVID-19 pandemic.

Punishment on conviction

The charges contravene section 36 (1) (a) and 102 of the National Environment (wetlands, river banks and lake management) Regulations, 5, 33 of the Fish Act and 117 of the Penal Code Act and respectively, elicits to two years' and three months imprisonment, upon conviction.