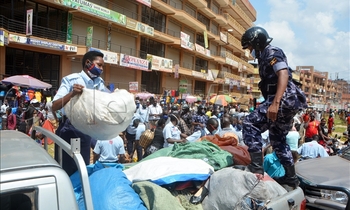 Kampala Capital City Authority (KCCA) law enforcement was involved in a hide and seek game as they impounded merchandise from vendors selling their items on pavements in downtown Kampala.
While some vendors were able to speed off with their merchandise, those caught were left confused as three KCCA pick-ups filled their goods including stools, tables, boxes, face masks, and clothes, among many other items.
The KCCA enforcement team backed by the police armed with tear gas and guns ready to encounter any resistance from the vendors impounded items from vendors along Nakivubo road, Nabugabo road, Luwum Street, Mini-price, and part of Ben-Kiwanuka Street in an exercise that lasted for over two hours leaving many crying.