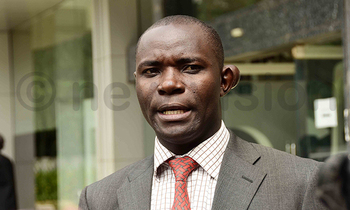 Controversial lawyer Hassan Mabirizi has asked the East African Court of Justice (EACJ) to quash the revised Uganda 2021 election roadmap, saying it is an insult to democracy.
On June 16, Electoral Commission (EC) chairperson Justice Simon Byabakama released a revamped roadmap, that details a scientific campaign in the face of COVID-19 pandemic.
Byabakama says the new directive which bans conventional campaign rallies and champions online campaigns, was informed by input from health experts.
Currently, the EC election roadmap is past the halfway stage, in preparation for the 2021 general elections. Voter registration and verification exercise was concluded mid-December last year.
The next stage of the nomination of candidates commences September and November, and thereafter campaigns commence.
Polls for presidential, parliamentary and local council positions, will be conducted between January 10 and February 8.
Lamentation On Monday, Mabirizi filed his petition at EACJ country registry, at the Supreme Court premises in Kololo. Last evening, however EC spokesperson Jotham Tarwema said that the commission was yet to receive its copy.
"We have not seen it. But if it is true, it is not surprising because of late, Mabirizi has made it a full-ime job to petition court on each and everything," said Taremwa Mabirizi wants court to intervene, saying Uganda is signatory to several protocols that champion democratic good practice and governance. He says the revised roadmap would disenfranchise the voters who are aware of the traditional process precedent to a campaign, as enshrined in the electoral laws.
"With digital campaigns, citizens will not be able to question the aspirants face to face, especially as far as their plans and fulfilment of earlier promises is concerned hence derailing from the principle of political accountability, a great component in any democratic society," says Mabirizi.
He wants EACJ to postpone the polls, on account of the international travel limitations, and enabling constitutional provisions.