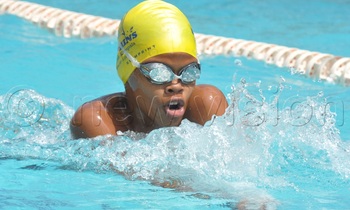 Celebrated Ugandan Afrobeat artiste Jose Chameleone (Joseph Mayanja) has touched a number of lives across the continent with his music, winning many musical awards and nominations over a ten year period.
To ensure the skill continues to run in the family, Chameleon in 2014 introduced his son Abba Marcus Mayanja to music where he made his debut with a rap song 'I'm upcoming'. But Abba would later find a niche in Swimming where he continues to shine.
Having relocated to the US about two years ago, the 15-year old has continued to pull-off wonderful strokes in the pool that saw him break a 31-year record at the Coon Rapids High School in February this year winning plaudits from his dad who tweeted: "Congrats @abbamarcus Record breaker. This record was set 1989, 2020 you pulled it down!!! I am so proud of you and more is on the way with God."
Abba also posted on his social media and posted: " Record Made by men but broken by kids; State finna be a movie" Abba stated.
Coon Rapids is a northern suburb of Minneapolis and is the largest city in Anoka County, Minnesota, United States.
Abba the firstborn of Chameleon is also a talented Rapper, Footballer, and upcoming Producer, but it is in swimming where he has so far left a mark of excellence.
Before he left for the US, Mayanja swam both for the Dolphins Swim Club and country, winning several medals both on the local and international scene.
Standout performances included one at the Kenya National Junior Championships in Nairobi in 2016 where he picked 2gold and 3sliver.
The same year he was part of a twenty-nine man Ugandan swimming team that collected 2125 points to finish third overall as the second edition of the CANA Zone 3 invitational in Kigali, Rwanda.
Mayanja picked individual gold medals in the two-day event, in the boys' 12&Under 200m breaststroke where Zambia's Michael Lillie and Uganda's Mikka Kiggundu were second and third respectively.
Team Uganda also grabbed gold and silver in the boys and girls 13& under as well as in the 14& over, in the 200m freestyle relay and the 200m Medley relays events respectively.
Mayanja also picked medals from the various local events that include the annual Excel Independence Swimming Championship, the Seals league, the Dolphins fast and furious among others.
With his Dad already a music celebrity, nine-year-old Abba Mayanja seems to be destined for similar success elsewhere.
He was one of the youngest swimmers to compete in the national swimming trials at Gems Cambridge International School, February 2015 shortly after launching his swimming career.
Mayanja posted a time of 52.50, 59.11 and 55.99 in the boys 12 and under 50m breaststroke, backstroke and butterfly heats.
Swimming for Altona Swim Club alongside other 10-12-year-olds the youngster also competed in the longer100 and 200m breast and freestyle events clocking and 1:39.21 and 2:03.70 respectively.
The determination he exhibited in the pool and eagerness to know what time he had made after each race showed he was keen on the sport and could be a force to reckon with.
His brother Alfa Mayanja is also a swimmer but hasn't made much ground as him.