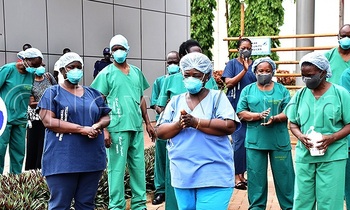 HEALTH COVID-19
KAMPALA - Uganda has confirmed 16 new COVID-19 cases after 3,455 samples were tested on June 24. This brings Uganda's COVID-19 tally to 821.

The samples tested were from the communities and among truck drivers at the points of entry.

Five of the cases are truck drivers whereof four of them arrived from South Sudan via Elegu while one arrived from Kenya via Busia border.

The remaining 11 are community cases, out of which four are from Kyotera, four from Amuru, one from Tororo, one from Kakumiro and one from Luwero districts.

According to Dr Henry Mwebesa, the Director-General Health Services said seven foreign drivers tested positive for COVID-19 and were handed back to their countries of origin. These include four Kenyans, two Tanzanians and one Burundian.

To date, 731 individuals have recovered and no death has been registered so far.

In his recent address, President Yoweri Museveni noted that Uganda is entering a dangerous stage of COVID-19 where the country is recording a surge in community infections.

"We are entering a more dangerous phase. Previously, it was from returnees, but with reopening of public and private transport, we are getting cases whose sources are not known," Museveni said. The sources of the community cases, the president said, could be positive cases that have since been handled or foreigners infiltrating the country through porous borders.

Currently, Uganda is in the third stage of COVID-19 transmission whereby, clusters of infections are being recorded in the communities.

However, the Minister of Health, Dr Jane Ruth Aceng, warned recently that these community infections will become full-blown pushing the country to the fourth and most dangerous stage if we are not cautious.

So far, seven districts have been mapped as hotspots. These include Kyotera, Amuru, Adjumani, Buikwe, Gulu, Isingiro and Rakai. To date, Kyotera is leading with 67 cases, followed by Amuru with 64 cases. Kampala, which is the Country's capital, has to date registered 37 cases.