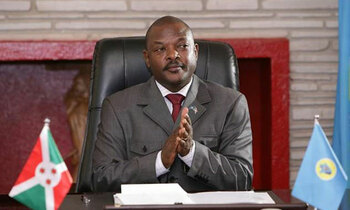 TRIBUTE |

President Yoweri Museveni has directed both the Ugandan and East African Community (EAC) flags to fly at half-mast from Saturday, June 13, as the country mourns the fallen President of Burundi, Pierre Nkurunziza.

"As an expression of our solidarity with the Government and the people of Burundi and as a mark of respect for the memory of President Nkurunziza, I hereby order that the flag of the Republic of Uganda and that of East African Community be flown at half-mast throughout Uganda and at all Ugandan embassies and consular offices abroad from tomorrow June 13, 2020, until burial," Museveni said.

This was contained in the President's condolence message released Friday afternoon by the Presidency Minister, Esther Mbayo at Uganda Media Centre (UMC) in Kampala

Nkurunziza aged 55 died on Tuesday after suffering a cardiac arrest. However, the burial date is yet to be announced by the Bujumbura authorities.

After 15 years in power, Nkurunziza was due to step down and hand over power to President-elect Evariste Ndayishimiye, who successfully stood for the ruling party in elections last month. Burundi's Constitutional Court will decide who takes over as interim leader.

According to the constitution, the speaker of the House is supposed to take over, but there has been uncertainty as to who is in charge.

"On behalf of the government and the people of Uganda and on my own behalf, I join the government and the people of Burundi in mourning the untimely death of His Excellency Pierre Nkurunziza, President of the Republic of Burundi that occurred on June 8, 2020," Museveni said.

The President described late Nkurunziza as a true friend of Uganda and a champion of the East African Integration.

"His country and the region will miss his talents and the invaluable contribution he was well-positioned to make towards the consolidation of peace and stability in Burundi and in the region, following his departure from office in a few months' time," he said.

Relatedly the Kenyan President Uhuru Kenyatta has ordered that the Kenya flag and that of the East African Community be flown at half-mast on Saturday to honour Nkurunziza.

Thursday, at the East African Community Headquarters in Arusha, flags flew at half-mast as the region mourns the passing on of H.E. Nkurunziza.



"His untimely death is a loss not just to the Republic of Burundi but also to the entire Community", reads a tweet from EAC.