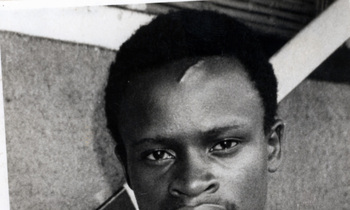 FAMILY | DISPUTES |

Singer Paul Job Kafeero's ex-wife Robinah Bisirikirwa is ready to challenge any decision to exhume the body of her late husband.

Although it is exactly 13 years since the 'Prince' of kadongo kamu (single instrument) music, Kafeero died at Mulago national referral hospital after a long illness, some of his family members came out last week and revealed that Kafeero's body was going to be exhumed at the end of this month to perform a DNA test to settle a paternity dispute.

When the singer died in 2007, many women came out to claim that the deceased had fathered their children. Seeing that the family had become too big, it is alleged that his children started to fight amongst themselves for their father's properties.

Speaking to Sunday Vision, Fatuma Naganga, Kafeero's aunt said the family is currently divided into groups, with some discriminating and chasing away those they think don't belong to their late father.

Bisirikirwa said the family members who want to exhume Kafeero's body are not related to him, they just want to exhume the body to carry out evil practices. To her it is not about the DNA tests, it is greed at play.

"My dear friend should be left to rest in peace, besides those people who are fighting for his body were not his family. The man on several occasions mentioned that his father was a Rwandan who used to work at a sugar plantation not that Umar Naganga," Bisirikirwa said.

The angry Bisirikirwa noted that it is possible Kafeero had only a few children because of his drinking, doctors said he had a problem.

Bisirikirwa noted that she was with Kafeero for 10 years but she never had a child with him, it is when she left him that she got a child.

According to Bisirikirwa, Kafeero was a catholic yet Naganga's family that wants to claim him are Muslims.

It is the late Naganga's children who call themselves Kafeero's brothers who are using Kafeero's children to make a mistake of exhuming the body.

"When Kafeero died, Naganga refused his body. You can ask the music promoter known as KT. Whenever Naganga came home, Kafeero would hide meaning he never considered him a father. If he was related to him, why was he not buried at Naganga's ancestral burial grounds?" Bisirikirwa asked.

Bisirikirwa said that she is going to challenge the Mengo court ruling to exhume the body because she is the one who built that strong wall around Kafeero's grave.

"Let everyone and the government intervene in these issues; President Museveni should give me security so that I guard his grave. We should put a fence and a gate to his burial place," Bisirikirwa cried out.