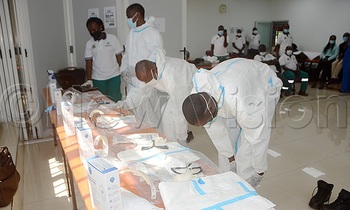 HEALTH COVID-19

The ministry of health and Korea Foundation for International Healthcare (KOFIH) have embarked on training of emergency Pre-hospital care providers, as part of the ongoing process of strengthening the capacity of frontline health workers during COVID -19 responses.

Dr Charles Olaro, the Director Clinical Services at the Ministry of Health said; "the main aim of the training is to prepare pre-hospital care providers and emergency medical technicians with skills and knowledge on the management of both COVID-19 and non-COVID-19 emergencies.

Dr Joseph Kalanzi, one of the trainers said the trainees were selected from people working on frontline within Kampala city. They were skilled on how to respond to calls of distressed patients and how to provide care to patients at dispatch centres before transporting them to hospitals.

Kalanzi said the training comes at a time when government is stepping up its response to COVID-19.

Dr John Baptist Waniaye Nambohe, Commissioner Emergency Care Services called for a need to establish an emergency responsive system.