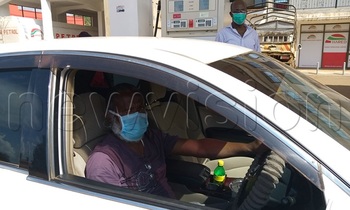 By Jackie Nambogga
Fuel station proprietors countrywide have got smiles on their faces following the resumption of private cars on the road.
Since their clients are mainly motorists, and the lockdown had left most cars parked this hit the fuel industry hard.
The situation wasn't any different in Jinja town.
Abdukarim Mohammed, the operations manager Hared petroleum limited said their sales declined to 10% because those who had been left to fuel with them were mainly motorcycle riders whose consumption was too low.
He was optimistic that their sales were likely to go up once the general public adheres to the guidelines geared at fighting the COVID-19 pandemic by wearing masks and washing hands as advised.
"The demand has been so low since other related businesses that consume fuel have not yet resumed but we are hopeful that it will slowly regain," he said.
In an interview with New vision on Tuesday, Mohammed said because of the curfew restrictions, they were compelled to forego the night shift across their 30 fuel stations in the country.
As a result, they had to reduce half of their staff and retained only those who were essential.
"Like other businesses, we have not been faring well but even if our staff isn't working, we decided to pay them between 40 and 50% of their salaries instead of laying them off," he said.
Meanwhile Betty Naigaga a fuel attendant at Bongo oils along the Jinja-Kamuli highway said this was a golden chance for drivers of private cars which they shouldn't abuse.
Like Mohammed, Naigaga urged the public to follow the COVID-19 measures and was hopeful that their sales would increase once public transport resumes come June 4, 2020.
"We are waiting patiently for government to re-open our main clients in the public sector, we shall get back to business," she said.