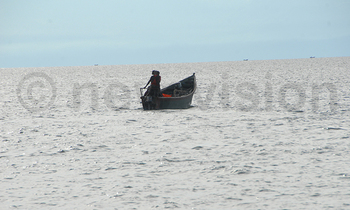 WATER TRANSPORT | ACCIDENTS

Two accidents have occurred on Lake Albert in a space of one week. On Monday one person died in the boat accident and on Wednesday eight people died when a boat carrying 18 people capsized.

On May 19, last year an engine-powered boat thought to be ferrying over 60 people capsised. 16 people who included fishermen, footballers and fans who were heading for two friendly matches between men and women lost their lives.


1997: 65 people died after their boat capsized on the way to Dei market in Nebbi from Butiaba in Masindi.

1998: 10 people drowned near Kanara, Ntoroko on their way to Kibale. In the same month, 20 others died on their way to Masindi.

January 1999: 40 drowned on their way to Kyangwali in Hoima from Panyimur

September 2000: 41 people died when their boat sunk near Kayonga with over 100 bags of fish. The boat was travelling from Kijjanji in Hoima to Panyimur in Nebbi.



May 2003: Eight UPDF officers returning from Ituri in Congo perished when their boat crashed between Tchomia and Ntoroko landing sites in Congo.

In July 2003: 20 drowned in a boat mishap at Ruunga landing site. They were travelling from Panyimur to Bugoma in Hoima.

February 2004: 45 people died after their boat capsized on their way from Bugoigo in Buliisa district to Panyimur in Nebbi district.

December 2004: 22 people were killed after their boat capsized at Korokoto between Mahangi and Panyimur.

October 7, 2007: At least 14 people died in Bulisa district when a boat capsized at Butiaba landing site on Lake Albert. The boat, carrying 25 passengers, was travelling to Panyimur in Nebbi district.

February 4, 2010: Four UPDF soldiers and other civilians who were returning from Ntoroko in Bundibugyo district, drowned in Lake Albert when their boat capsized due to overloading.

August 2, 2010: 73 people died after their boat capsized on Lake Albert at Kakoma in Runga village, Kigolobya sub-county in Hoima district.

July 3, 2011: 15 people died when a boat ferrying traders from Hoima to Nebbi district capsized between Nyamukuta and Kabolwa landing sites on Lake Albert in Buliisa district. This happened a week after19 people died when a boat they were using to transport a body to DR Congo for burial capsized on Lake Albert.

August 8, 2011: Two fishermen drowned in Lake Albert after their boat capsized near Kyehoro landing site in Kabwoya sub-county, Hoima district.



March 22, 2014: 108 people died when a boat carrying Congolese refugees who were escaping from Kyangwali refugee settlement camp capsized near Kitebere landing site in Ndaiga sub-county Kibaale district.

May 19, 2019: 16 bodies were retrieved from Lake Albert following the capsizing of a boat that was carrying football players and fans.

November 4, 2019: Nine people died while 12 others were rescued following a boat accident on Lake Albert.