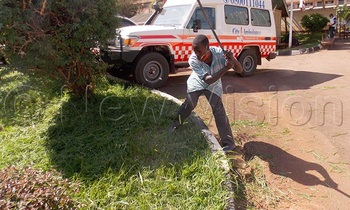 COVID-19 | CRIME

KAMPALA - Thirty-seven people have been handed two hours' community service after pleading guilty to charges of disobeying presidential orders intended to prevent the spread of COVID-19 pandemic.

George Lulimi, 50, John Ssegawa 45, Ramathan Munwika 45, Anthony Amaka 42, Rashid Amudo 38, Pesio Tibaga 35, Frank Lukundo 30, Simon Peter Achia 28, Godfrey Adrigo 27 and Julius Ssekandi 20, were given the sentence after their own confession.

Buganda Road Court Grade One Magistrate, Dorothy Bagyenyi read them the sentence on Thursday.

Other convicts were Victor Oktcha 38, Jimmy Eceja 39, Stephen Nimungu 20, Rajab Jafaru 20, Abubaker Matovu 27 and Patrick Usiku 25 among others.

The convicts were respectively, porters, chapatti sellers, market loaders, street vendors, brokers, casual labourers and luggage carriers residing at Kirombe 'B' Nansana in Wakiso district.

Others were residents of Kisalosalo-Kyebando, Bulange-Mengo, Arua Park, Kawempe, Makindye and Natete in Kampala.

In her ruling, she noted that the punishment was appropriate, for the convicts were first time offenders, remorseful, ready to reform and did not waste the court's time.


"Putting in consideration the fact that you are first time offenders with no criminal record and have not wasted court's time, you are hereby sentenced to two hours' community service," Bagyenyi ruled.

She ordered the convicts do the community service at, around and within Buganda Road Court and Central Police Station (CPS), respectively.

Immediately, the convicts started slashing, sweeping, digging and weeding court premises, plus those of CPS, as others watched the judiciary vehicles.




The law

According to the law, any person who disobeys any order, warrant or command duly made, issued or given by any court, officer or person acting in any public capacity and duly authorised in that behalf commits a misdemeanour and is liable, unless any other penalty or mode of proceeding is expressly prescribed in respect of such disobedience, to imprisonment for two years, upon conviction.

The charge

Prosecution led Ivan Kyazze told the court that on May 25, 2020, at the city centre in Kampala district, the convicts disobeyed the Presidential lockdown lawful orders intended to prevent the spread of COVID-19 pandemic by moving beyond curfew hours.

The charges contravened section 117 of the Penal Code Act.