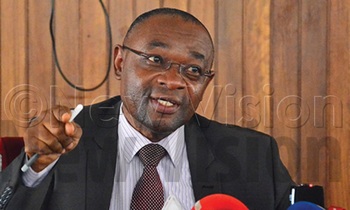 Government will provide stamps to local council chairpersons as soon as the COVID-19 pandemic eases, local government minister, Raphael Magyezi has said.

"We are in the final stages of giving out stamps to LCs. We have procured them and we are fitting them with security marks that they can be used as legal instruments," he stated.

Magyezi said the security features will allow authorities to trace the stamps to the respective chairpersons in case of abuse

He was presenting a report of the Ministry of Local Government performance against the NRM Manifesto 2016-2021 targets at the Office of the Prime Minister on Tuesday.

The Manifesto Week, which started last week, takes stock of the progress made by ministries, departments and agencies to fulfil promises made by government at the start of a five-year term.

In 2018, Uganda held LCI elections, 15 years after the last polls were conducted. There are over 70,000 villages countrywide, each headed by a local council chairperson.

The stamps validate formal documents highlighting endorsement by the village leaders. The stamps were manufactured by the Uganda Printing and Publishing Corporation.

Meanwhile, the local government ministry has built 213 town councils and 17 sub-county offices countrywide, and trained local councils to handle disputes.

Other listed achievements of the local government ministry over the last four years include the induction of new councilors, enhancing inspection and a review of taxi and bus fees.