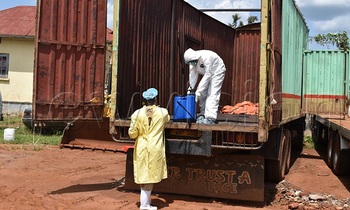 By Tom Gwebayanga
The Police and the Covid19 Task Force in Kamuli district have forced a driver and his turn man into forced quarantine, having crossed from South Sudan using ambiguous Covid19 testing documents.
According to Michael Kasadha, the Police Spokesperson for Busoga North region, the duo (names withheld), were intercepted at Kiroba village along Kamuli -Jinja road.
They had joined their families bearing the documents they allege were issued to them by the authorities of Elegu border however, the communication from the latter doubted the circumstances under which the crew entered the country, swinging the Police and Kamuli Covid19 Task Force into action.
According to Simon Kabbale, the medical Social worker in Kamuli COVID19 unit, it was unacceptable to allow the duo to continue mixing with the community.
Kasadha said the suspects could have been duped by the conmen at the border, who issued them with fake COVID19 documents.
The District Health Officer, Dr. Aggrey Batesaaki, said they could not take any chances because the duo had interacted with many people, including their families and the business community, being transporters of sugarcane and other merchandise.
From a distance, groups of people gather at the opposite side opposite Kamuli Central police Station to awe at the rare spectacle of disinfection of the truck.
The in-charge of Kamuli COVID19 unit, Sister Edith Bogere, said that the public should not panic because the situation is under control, despite declining to divulge whether the suspects' status.
"We're closely monitoring their health, pending the results from the Uganda Virus Research Institute-Entebbe," Sister Bogere, also the District Surveillance and focal Person said.
Speaking to The New Vision at Kamuli CPS, Paul Nnaku Musana, the suspects' employer wondered how his workers were forced into quarantine yet the testing documents are genuine.