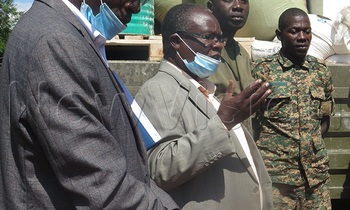 By Stephen Nuwagira
Residents of Ibanda district whose crops were destroyed by hailstorms during last rains have received 30 tonnes of relief food from the Office of the Prime Minister.
The food aid which includes 20 tonnes of maize flour and 10 tonnes of beans will also benefit residents bordering the Kasyoha-Kitomi national forest reserve in Kicuzi sub-county whose crops were ravaged by wild animals.
The food items were delivered to Ibanda district head offices by the UPDF Service Brigade on May 26.
They were received by the district leaders including LCV chairman Melechiades Kazwengye, RDC Eliasto Akatuheebwa, Nathan Ahimbisibwe, the chief administrative officer, the speaker Happy Herbert Mayanja, and the district councillors, among others.
The food will be distributed in three sub-counties of Kicuzi, Kikyenkye and Keihangara, said Ahimbisibwe, the CAO. The beneficiaries in the parishes of Rwengwe I and Rwengwe II Keihangara sub-county, and in Karutusi parish of Kikyenkye sub-county were affected by hailstorms last rainy season.
Those of Irimya parish in Kicuzi sub-county had their crops ravaged by wild animals as they border the Kasyoha-Kitomi national Forest reserve, explained Ahimbisibwe.
Speaking at the event, Kazwengye thanked the Minister for Karamoja Affairs and also the Ibanda South MP, Eng John Byabagambi for the food aid after the district wrote a distress letter to the PMO seeking relief food for the affected people.
"The delivery of the food has come at a timely period when many were experiencing difficulties in accessing food, especially during the recently eased lockdown to stop spread of Coronavirus (Covid-19)," said the LCV chairman.
On his part, RDC Akatuheebwa said the food will be of great help to the affected residents. He explained that only residents who crops were destroyed by the hailstorms in Keihangara and Kikyenkye, and those in Kicuzi that had crops destroyed by wild animals would benefit.