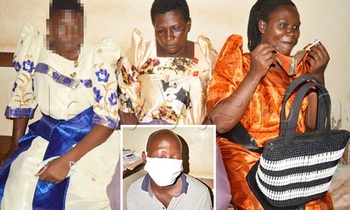 By Jackie Nambogga
When residents learnt that Annet Bakyeese was organizing an introduction ceremony of her 17-year-old daughter who was still at school, they alerted concerned authorities for intervention.
The irate residents of Nkombwe landing site in Ngogwe sub-county, Buikwe district alerted officials at World Vision of the Buikwe branch to ensure that the senior four student at Baskerville senior secondary school also located in Ngogwe was not married off last Saturday.
Aware of the activities conducted by World Vision, a nongovernmental organization that fights for children's rights against any violation including sacrifice, residents petitioned it for help.
Hellen Butoto, the Ssezibwa regional police spokesperson confirmed the development. Butoto said World Vision officials followed the proceedings stealthily until they confirmed and alerted the police of Ngogwe and Lugazi which swung into action on the introduction day and made some arrests when the event was underway.
Earlier, Bakyeese and their guests remained firm thinking police had rounded them up for faulting the COVID-19 guidelines against overcrowding yet they had secured permission only to be questioned about the girl's age who was at the centre of the event.
Whereas some of the guests managed to escape, Butoto said they managed to arrest 7 people and ordered them to drive their respective cars to Lugazi police.
LC1 disguises as girl's father
Besides Bakyeese and her daughter, police also arrested the area LC1 chairperson Stephen Mbogo who disguised as the girl's father at the event.
The biological father, Godfrey Kyeswa was reportedly caught up elsewhere by the lockdown.
Also arrested was the girl's paternal aunt, Safina Namwanga, the would-be son in-law Daniel Kizza and Peterson Kyoobe who had accompanied him including Stephen Eto who was driving them.
Kizza is a renowned tycoon in Mukono town who deals in produce, timber and is a sugarcane grower as well.
The victim revealed that she started having sex with the suspect on February 20, 2020 and it is not clear why her mother wished her to marry at such a tender age.
Butoto said Kizza would face charges of defilement on case file number CRB 230/2020 while Bakyeese and the rest would face charges of procuring defilement.
Bakyeese's arrest follows a similar incident of Zura Mukamana of Masajja Kibira B zone in Makindye Ssabagabo municipality in Wakiso district who is accused of forcing her 14-year daughter into prostitution in exchange for money and food and accused of aggravated defilement.