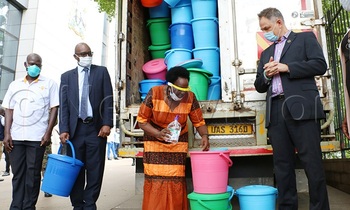 COVID-19

KAMPALA - On top of dealing with challenges like job loss, hunger, stress, due to COVID-19, women from poor families in Uganda are also struggling to access menstrual supplies which are now scarce and unaffordable to many.

Because of the COVID-19, a number of women, who are sometimes family heads have lost their jobs after being laid off by their companies or can't work since their small businesses are under lockdown.

This means they lack the money to buy hygiene items which are critical to the survival of various vulnerable groups especially in terms of infection prevention practices and menstrual hygiene.

In Kampala, the United Nations Population Fund (UNFPA) has taken the lead in helping women manage their menstrual hygiene by donating 4,000 dignity kits to 4,000 households worth $55,926 (sh210m).

Each kit consisting of a bucket, soap, sanitizers, and menstrual pads.

The UNFPA Representative, Alain Sibenaler, handed over the items to the Minister of State for General Duties, Mary Karoro Okurut at a ceremony held at Office of the Prime Minister.

"Thank you for thinking about the women and the girl child who is more vulnerable in these hard times. This is a very good gesture that will help them manage their menstruation in a dignified way," said Karoro who is also the Head of the COVID-19 Response Fund.

Sibenaler commended the government for its remarkable response in preventing and managing the COVID-19 unprecedented pandemic that has ravaged the world.

He noted that responses to the pandemic must protect and support girls' and women's empowerment and rights and ensure their needs are addressed and not left behind.

"A number of commodities and supplies, including menstrual health and hygiene items, are central to adolescents and women's health, empowerment, and the exercise of sexual and reproductive health and rights," Sibenaler said.

He revealed that UNFPA has committed to contribute to strengthening the capacity of the vulnerable populations (girls and women) in Kampala through the provision of non-food items critical to their survival especially in terms of infection prevention practices and menstrual hygiene.

Sibenaler also informed the minister of UNFPA's support of sh64m worth of fuel vouchers to 14 districts in the Northern and West Nile regions for ambulances to transport mothers to health facilities so they can deliver safely, amidst the COVID-19 pandemic.