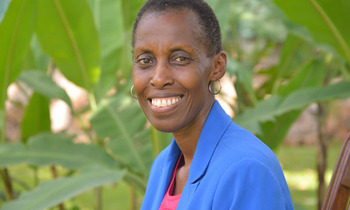 EDUCATION

Professor Monica Balya Chibita, Uganda Christian University's (UCU) don and New Vision Printing and Publishing Company's ex- Chairperson of the Board, has been appointed to a UK top Journalism Studies Editorial Board.

Prof. Chibita, who is the Dean of the Faculty of Journalism, Media and Communication at UCU, according to Glimug, is one of the 15 new members appointed to UK-based editorial board.

She becomes the second black woman, to make it to the board, the first having been NASA's Wendy Okolo, who bagged a Doctorate Degree in Aerospace Engineering, at the age of 26.

Glim, an international media platform which celebrates women who have exceptionally achieved, amongst other issues; reports that Prof. Chibita is now joining a list of 14 other new members appointed to the editorial board, based at universities in all corners of the globe; and have expertise in the field of Journalism.

The Board brings together the best brains around the world in the media and research.

According to Glim, in its report, "Journalism Studies brings together teachers, researchers and journalists from around the world to provide a critical forum for the study of journalism as a subject focus for intellectual and scholarly inquiry as an arena of professional practice," it reports.

It adds, "The editorial board and contributors reflects the global academic community and the journal is devoted to the analysis, scrutiny and development of all aspects of journalism education and studies.
Journalism Studies explores the widest possible range of media within which journalism is conducted; radio, newspapers, magazines, television, multimedia and new technologies."

When Prof. Chibita joined UCU, she a became Head of the Mass Communications Department, which she worked to grow into a Faculty.

Prof. Chibita is one of the two full professors of Journalism and Communication in Uganda after Professor Gorreti Linda Nassanga, the Department of Journalism and Communication at Makerere University. She worked at Makerere University before moving to UCU on promotion in her roles.

Applauded

Dr. William Tayeebwa, the head of Journalism and Communication department at Makerere University, says, "Prof. Chibita definitely deserves it as an institute academic with vast experience. This is a vote of recognition for Ugandan as well as African media and scholarship. I and the department, warmly congratulate her."

More so, UCU's Vice Chancellor, Rev. Canon Dr. John Senyonyi when contacted by New Vision said, "We, at Uganda Christian University, were so delighted to receive news of the appointment of our Prof. Monica Chibita to the Editorial Board of the UK based Journalism Studies Editorial Board, and being the only black female appointee."

He added, "We are justifiably very proud of her. All of us who have worked with Prof. Chibita, have come to respect her immensely."

"She is so selfless and dedicated to her colleagues and to Journalism, rightly exhibiting the Christian spirit we cherish at UCU. Since she joined UCU, we have seen an upward trend in everything she touches," Dr. Senyonyi added.

"All this is to say, this is well deserved appointment. As one from among us here often says, for Prof. Chibita-the sky is the beginning. I offer my warmest congratulations to her. May God lift her higher."

Attempts to reach Prof. Chibita, for a comment, were futile by press time.