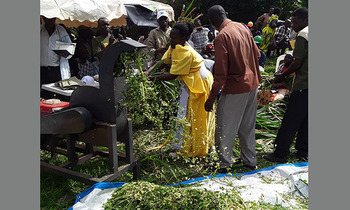 FARMING

The government of Uganda in her Vision 2040 is well committed to transforming farmers' livelihoods' through enhancing agricultural productivity. Dairy and beef production are among the key 12 priorities identified to achieve her vision.

However, shortage of pastures, especially during the dry season, remains among the serious challenges facing dairy farmers in Uganda.

During the dry season, there is a drastic reduction in livestock products especially milk. The severe scarcity of pastures can lead to the death of the animal.

To ensure a constant supply of pastures to farmers, Rural Development Administration (RDA), Korea Program on International Agriculture (KOPIA) and Buginyanya Zonal Agricultural Research and Development Institute (Buginyanya ZARDI) implemented a project titled "Uplifting livestock farmers' livelihoods by establishing and selling high-quality forage crop seed production complex".

Buginyanya ZARDI is a constituent institute of National Agricultural Research Organisation (NARO) mandated to conduct agricultural research and development activities in the south-eastern agro-ecological zone of Uganda.

Dr Lawrence Owere, the Director Buginyanya ZARDI, says the main objective of the project is to increase livestock productivity for increased household incomes and nutrition security in smallholder's crop-livestock production systems in the zone.

Owere explained that the project emphasizes the production of pasture seed by strengthening community farmer groups initiatives to produce quality declared seed of improved pastures rich in nutrients which are vital for animal growth.

"When dairy animals are well-fed with balanced proportions, it translates into increased milk yields and faster growth rates in case of beef animals. Improved pasture species include; Chloris gayana (Rhodes grass), Brachiaria mulato and NARONAP3," Owere said.

Owere says since inception in July 2019, the project has trained 357 farmers (166 females and 191 male) in improved livestock management practices and pasture agronomic interventions.

Dr Park Taeseon, the Director for KOPIA says farmers have also been trained in the production of high-quality pasture seed to ensure high-quality forages that can guarantee high milk production and faster growth rates for dairy and beef production animals respectively.

To increase household incomes through sale and marketing of quality pasture seed in the zone, Taeseon said that participating farmer groups have already started harvesting pasture seed of Chloris gayana and Lablab purposes.

According to Taeseon, farmers have besides included legumes; Lablab purpureus (hyacinth bean), Centrosema pubescenes (butterfly pea) and Stylosanthes guianensis.

Participating farmers are also being trained in the marketing of seed, business management, group dynamic's and savings to widen their entrepreneurial skills.

"By the end of the project's lifetime farmers will have acquired knowledge in producing, packing and marketing seed, producing hay and silage and better management of livestock which will translate into increased incomes and improved livelihoods," Taeseon said.

Freida Kakayi, the chairperson of Nabugimbi Yetana women's' group in Nabbongo sub-county Bulambuli district says she was among those who are benefiting from the projects.

Kakayi revealed that so far, they have already harvested 35kgs of Chloris gayana seed and there is still more in the field.

"We anticipate earning an equivalent of sh1.2million from the sale of seed. Besides after harvesting seed, the pasture will be harvested to produce hay for feeding our livestock in the dry season," she revealed.

In Bukwo district, the excitement for Rwanda Farmers group in Senendet Sub-county is equally the same. The Chairperson Nicho Dismas said the project has helped them to acquire skills in pasture management, seed production and better feeding of dairy animals to improve milk production.

He explained that feeding lactating animals on improved pastures like Chloris gayana and Lablab has translated into a 30% increase in milk production.

Franklin Kitiyo the district production officer for Bukwo district said the project is changing lives in the district.

Kitiyo said he was happy farmers in Senendet sub-county have learnt how to prepare silage and have already conserved 5.2 tonnes of silage using NARONAP3 and molasses.

"The project is facilitating farmers to produce high-quality pasture seed and forage products like hay and silage which will be sold to other farmers within and neighbouring Kenya thus earning income for the household," he says.

Kitiyo revealed that this season, for example, Masola dairy farmers group, Nabugimbi Yetana women's group and Rwanda farmers group anticipated earning sh8.5million, sh6.8million and sh15.2million respectively from sales of pasture seed, hay and silage alone.

According to Taeseon, despite the smooth implementation of project activities, the recent outbreak of Coronavirus disease (COVID-19) epidemic has come with several challenges notably limited travel among others.

He said although management of COVID-19 came with disruptions, the project is on course and the project team are very enthusiastic that the intended goals shall be achieved with continued support.

"We have learnt some lessons, for example, during the lockdown the project team has learnt the usefulness of ICT. When well embraced, it can facilitate collecting data and sharing of accurate information more efficiently," he said.

He added, "The project has therefore planned to integrate the use of cellular mobile phone-based services like the NARO apps in future project activities."