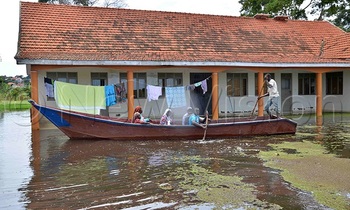 LAKE VICTORIA | CLIMATE CHANGE

WAKISO - Kyasira home of hope, which is managed by Good Samaritan Sisters of Kisubi used to accommodate over 80 orphans.

From the orphanage, children would be taken to different schools for their education.

However, the rising water levels of Lake Victoria have not spared the orphanage, wrecking all structures including dormitories, kitchen, stores, and toilets.

What used to be a compound, is now an extension of Lake Victoria and the nuns have to use a boat if they're to access any corner of the compound, or crossing from one dormitory to another.



Read the detail in today's New Vision or click the Epaper.