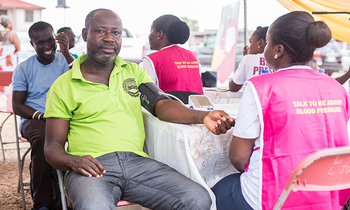 The AstraZeneca and the Ministry of Health have signed a Memorandum of Understanding to pave the way for implementation of the Healthy Heart Africa (HHA) programme.
The agreement is aimed at among others strengthening the provision of services for the prevention and management of hypertension.
Other objectives include raising awareness of lifestyle risk factors for Cardiovascular Disease (CVD) using the ministry guidelines to standardise care and up skilling health workers through training and education.
Uganda is the fifth country in Africa after Kenya, Ethiopia, Tanzania and Ghana to implement the HHA programme.
The Permanent Secretary at the Ministry of Health, Dr Diana Atwine, explained that her ministry is excited about the partnership with AstraZeneca to implement the programme, "which will contribute to our government's objective of reversing the high prevalence in the country".
Atwine said: "This year's World Health Day, which is being marked at a time when we are tackling the COVID-19 pandemic, offers an opportunity to highlight our common determination to provide quality healthcare to all Ugandans."
She said to achieve this, the ministry under the leadership of President Yoweri Museveni, will continue to spearhead programmes that equip the healthcare system with the tools, resources, knowledge and trained personal required to tackle both communicable and NCDs.
According to a ministry survey carried out among 3,900 people, 100 of these suffer from hypertension, 70% of adults had never had their blood pressure checked and 76% of these with raised Blood Pressure were untreated.
The ministry also reports that about one in 10 people surveyed had more than three risk factors for Non- Communicable Diseases (NCDs) and among adults aged 40-69, there was a risk of CVD within 10 years.
According to National STEPwise survey conducted in 2014, 24.3% of Ugandans had elevated Blood Pressure, while the pre-hypertension rate was at 37%.
The survey also showed that over 70% of the respondents had never had their Blood Pressure measured and that 76% of those were untreated.
Only 7.7% of the participants with hypertension were aware of their High Blood Pressure, suggesting a burden of undiagnosed and uncontrolled hypertension in the region.
"In sub-Saharan Africa, nearly 30% of the adults were estimated to have HBP in 2014, the highest prevalence in any region," the study indicates.