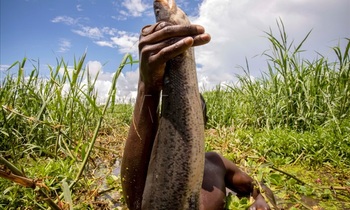 The Covid-19 pandemic has not only lead to the hospitalisation of many, death of over 300,000, the number of worldwide coronavirus cases has also risen to over 4.8 million as of May 18, 2020.


All pictures by Badru Katumba

The pandemic has swept through most countries in the world while leaving many unemployed and many businesses shut down temporarily.

John Kaweesi and his colleague, Kimera Marvin, used to sell second-hand shoes in Owino market, but due to the outbreak of COVID19, the market for non-essential commodities such as shoes was banned.

To make matters worse, Kaweesi and his family have been affected by the rising water levels of Lake Victoria. The water which is filling their house has forced them to seek refuge elsewhere.

Left with no source of income, Kaweesi and Kimera have resorted to catching fish in their own backyard within the plantain, brought by the rising waters of Lake Victoria in Munyonyo.

The job comes with challenges of being attacked by strange snakes and other unknown creatures, as well as lack of protective gear.