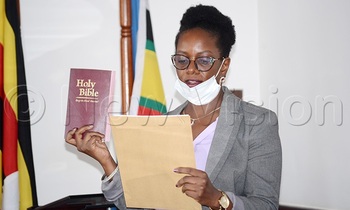 OIL SECTOR

The field of energy continues to bring its best women to the forefront of Uganda's oil sector. Of the new seven-member board of the Petroleum Authority of Uganda, four are women.

The Board will also be led by a female Chairperson for a second successive time.

The female members include Dr. Jane Mulemwa the Chairperson, Dr. Kevein Aanyu, Doreen Kabasindi Wandera, and Lynda Biribonwa.

The other members of the Board include Kiryowa Kiwanuka, Bernard Ongodia, and Dr. Ephraim Banadda.

The seven-member team on the board will serve as the governing body of the authority as provided by law and provide oversight.

The board is mandated to ensure the right systems, processes and human resources are in place to steer the petroleum sub-sector forward.

They are also ensuring that local content provisions are up to the required standard and monitor compliance of international oil companies on regulations and laws.

"I'm happy to say that the board has more females than males. This is a sign that country trusts everyone including women," Dr. Mary Gorret Kitutu, the Minister for Energy and Minerals Development said.

Section 17 of the Petroleum, Exploration, Development and Production Act, says that the PAU should have a Board of Directors.

The Act also requires that at least three of the Board members should be female.

Robert Kasande, the Permanent Secretary of the Ministry added: "We have scored higher than what the law says."

They made the remarks at the inauguration ceremony which took place on Friday at Amber House in Kampala, the Ministry Headquarters.



Who are they?

Dr. Jane Mulemwa holds a Doctor of Philosophy (PhD) in Physical Organic Chemistry from Queen's University of Belfast, Northern Ireland.

She has over 30 years' experience in leadership, administration, policy development and analysis, strategy formulation and evaluation, science education, and academic research.

In addition, she possesses extensive experience in leading varied organisations through periods of initiation, transition, and growth.

Aanyu holds a PhD in Geosciences from Johannes-Gutenberg University in Germany.

Dr. Kevein Aanyu holds both, a Master's of Science in Structural Geology and a Bachelor of Science in the same field from Makerere University.

Aanyu's work experience spans 16 years where she is a lecturer in the Department of Geology and Petroleum Studies at Makerere University.

In addition, she served as a Geologist in the Department of Geological Survey and Mines in the Ministry of Energy and Mineral Development between 2002 and 2004.

Doreen Kabasindi Wandera is an expert in natural resources and environment in the country.

She has been in practice in the environment sector for 28 years.

She is an experienced natural resources and environmental scientist who holds a Bachelor of Science (Hons) degree in Botany and Zoology, a Master of Science degree in Agriculture, both from Makerere University.

Lynda Biribonwa is an expert with 20 years in Environment, Health, Safety, and Quality Management professional.

She has previously worked with Tullow Oil and the National Environment Management Authority, among others.

She holds a Master of Business Administration in Oil and Gas from CWC School of energy London, a Master of Science in Environment and Development from the University of Reading.

She also holds a Bachelor of Arts (Hons) in Environment Management and Business Administration from Kell University.

Find their detailed profiles in the Oil & Infrastructure pullout in The New Vision on Tuesday