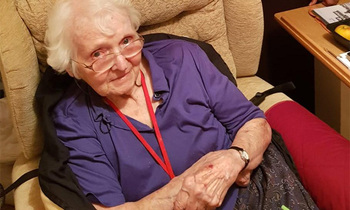 TRIBUTE
Tributes continue being paid to Ann Cutler a former deputy headteacher of Gayaza High School, who died on Thursday at the age of 86.
Cutler who served Gayaza for 40 years is being remembered by many for having made a big impact on many girls through physical education and bible study classes.
She joined Gayaza High School, 1961 as a young lady to serve under the auspices of the Church Missionary Society (CMS).
Cutler served as Physical Education and Christian Religious Education teacher and later as a deputy headteacher until 2001 when she retired to Europe.
Following her death, several old girls and friends from all over the world are expressing their fond memories of Cutler.
Robinah Kizito Katongole Headteacher Gayaza High School
We celebrate somebody who lived with us and taught us how a Christian teacher behaves. She was a very committed teacher who always kept time.
She was very particular and knew all the students by looking at their feet. Very few students then had the privilege of owning sports shoes so they would go for PE without shoes.
She taught us Scottish dance, which she would do once a week.
At the beginning of the term, she would take our measurements to know our level of growth; height, and weight. When you improved she would feel very happy.
Cutler exposed us to lots of games like table tennis, country dancing, and netball, among others.
When we came back to teach, she always made us feel comfortable and there is a lot we learnt from her.
Currently, whenever we sing some songs like the Gayaza Anthem we remember her because she loved singing.
On Facebook
Victoria Sekitoleko, former Minister of Agriculture
And then she had to deal with "less spotty " lot! I was one of them. She encouraged me to do hockey. This may partly explain my obsessions with handles and teamwork! The hand hoe, politics, etc. All shaped me into the person that I am today. Ann, you really finished your work. Rest in eternal peace
Perpetua Shulamit Ge
Ms Cutler was special. I miss the country dancing, her contributions in the Chapel, how she encouraged us to learn all the Biblical books and their order in S.1, how she always shouted, "Ruuuuuuun...." The list is endless. I was very sad to see her leave in 2001. Life at High School wasn't the same without her. May her soul rest in eternal peace. Thank you, LORD, for allowing our paths to cross. HalleluYAH. Will miss her dearly.
Appelez-moi Kizza
I can vividly hum those Scottish music sounds during "early Mo." Her round dresses and well-tucked half stockings in white canvas shoes on those P.E days!
A very vibrant lady she was. MHSRIP.
Ameri Irene Kimara
She had a heart of gold! She cared for, loved, and disciplined us like her own daughters. I am sure she has already heard these words from the Master "Well done, good and faithful daughter".
Twitter tributes
Gayaza High School on twitter.
She was selfless. Although not ordained she served as a school chaplain and her contribution to bible studies, Confirmation classes, Nativity plays and games still stand strong. She made an impact on many girls. May she rest in perfect peace.
Rev Diana Nkesiga Mirembe Barlow an old girl said: Miss Cutler arrived in Uganda in 1961 and she met me in a pram under the mango tree when I was barely 2 months old. Everyone remembers her for Scottish dancing but I for so much more,"
I remember her catching us in the chapel broom cupboard having our own first overnight, praying for Uganda in Iddi Amin's time (1975). We were frightened out of our boots. We waited for weeks to be read out in the punishment book.
For some reason she didn't and the next term we had our first official overnight at school. We celebrated together as I turned 25 and she was celebrating 25 years in Uganda.
We taught together on the staff and I was her chapel prefect in S6 1979 and assistant chaplain 1983-85. She helped me get into Bishop Tucker Theological College (UCU) through Rev Lee and also attend my wedding. We were neighbours for over 20 years.
She describes Cutler as was a woman of faith and who made boarding school alive and exciting.
We believed she knew every girl's name and could identify them by their heel. An amazing woman! Thank you, Miss Cutler, for your faith, dedication, and energy. I believe you are dancing in God's presence.
To Victoria Kisarale a former headteacher, who was taught by Cutler,
"Cutler loved people, she introduced country dancing during PE at Gayaza but would also involve us in badminton, lawn tennis, and netball hockey. She was synonymous with PE as whole," Kisarale says.
"She loved dogs. She always had a dog, at our time she had a dog called Heidi. Whenever that dog would run in the dormitory you would know she was around the order. We will miss her,"
Alice Ruhindi wrote on twitter: Miss Cutler was my PE teacher from the age of14 years. She had a dog called Heidi. To make sure the girls maintained a healthy weight, we got weighed at the start of the term. PE started at 6:30am, discipline and self-worth were a must at Gayaza. R.I.P"
Florence Kanyike, a student at the school from 1972 to 1977, writing in the 2015 Gayaza Alumnae Magazine described "a composed and meditative lady whose dog followed her everywhere." She added: "She became a great confidant the higher I got in class, attending bible study at her house and seeking guidance whenever I needed it."
In the same publication, Gertrude Kayaga Mulindwa wrote: "Miss Cutler coached, cajoled, encouraged and, sometimes, bullied those she could see were talented in any sport to practice and realise their full potential.