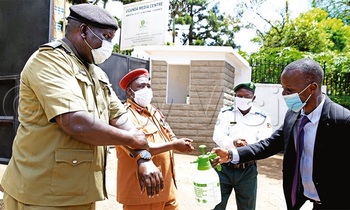 As joint security teams continue with the enforcement of the presidential directives to curb the spread of the coronavirus (COVID-19), during the last 35 days over 3,654 people have been arrested for flouting these guidelines.
Police spokesperson Fred Enanga yesterday warned that more people will be arrested as the country embarks on 14 more days under lockdown if measures against the spread of COVID-19 are not adhered to.
"We as the joint security officers appeal for a concerted effort against the spread of COVID-19, and call on the public to ensure that we strictly observe the 14 days of the lockdown. In the last 35 days, we have arrested 3,654 people over flouting presidential directives against the spread of COVID-19," Enanga said during a joint security briefing yesterday at the Uganda Media Centre.
Enanga added that a number of those arrested have since been released after being cautioned.
"We are now restricting the enforcement to the main disruption of those breaking the measures to minimise arrests," he added.


A total of 1,097 vehicles and 2,279 motorcycles, Enanga said, have also been impounded since President Yoweri Museveni issued a raft of measures to control the spread of the coronavirus.
In his address on Monday, Museveni announced an extension of the lockdown by 14 days. However, the President also allowed wholesale shops, hardware shops, garages, metal and wood workshops, insurance companies, restaurants for takeaway purposes to open as scientists continue to monitor the COVID-19-related developments. Lawyers were also allowed a quota of 30 people.
Yesterday Enanga said the new categories must carry their national identity cards, employment cards, letters from their employers detailing the purpose of their travel and must observe social distancing rules both at work and while inside the means of transport.
"Checkpoint barriers have been increased, and we are going to continue mounting snap operations to avoid being predictable. Foot and mobile patrol operations have also been increased," he said.
On the issue of wearing face masks, Enanga explained that although wearing a respirator mask is mandatory, security officers, will at first caution and educate the public about the rationale behind these masks before arrests are carried out.
"We shall caution those that are moving without masks, but not arrest them because if we do arrest, the prisons might fill up," he said, calling on security officers to be careful as they enforce these anti-COVID-19 measures.