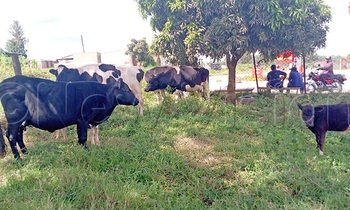 SHEEMA - Police in Sheema district have arrested James Tayebwa, 50, a school director after he was found with six stolen cows.
Tayebwa is the managing director of Tynet International Primary School in Kiruhura District.
Martial Tumusiime, the Greater Bushenyi region Police Spokesperson, confirmed Tayebwa's arrest, adding that the suspect had been on their 'wanted list' for some time.
Tayebwa was arrested by a senior investigator, Charles Tukahiirwa, from his home in Mbarara district.
Police on Thursday also arrested Tayebwa's farm manager Naboth Agumenaitwe for attempting to offer a bribe of shs900,000 to a Police officer in a bid to secure bond for his boss.
Tumusiime added that Tayebwa led the Police to his farm in Ibanda district, where he showed them the six cows.
"We have already recovered these six, but we have just learned that he has various farms. So, we are linking up with our teams on the ground to also visit his other farms for a thorough search," Tumusiime said.
James Tayebwa after being arrested. Photo by Adolf Ayoreka
Police revealed that Tayebwa has up to eight pending files, all related to cattle theft and robbery registered at Sheema Police station.
Tumusiime said that preliminary investigations indicate that Agumenaitwe and Tayebwa have a big racket they deal with in livestock theft.