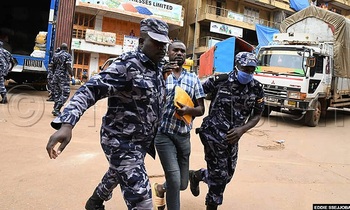 HEALTH COVID-19

KAMPALA - The Police from CPS comprising of the Field Force Unit (FFU) and general duty Tuesday monitored the streets downtown Kampala and warned traders not to open their shops.

The police directed people who seemed idle to head back to their homes while they emphasized that everyone should wear a face mask.


Later, along Ben Kiwanuka street, many traders were caught by surprise when the commander of the team called for their truck and started arresting them. Most of them were standing stranded in front of their shops.

They tried to plead but it was too late. SP Moses Doka, operations commander Kampala Metropolitan Police who commanded the team was directing traders to return home or be arrested for defying the presidential directives on COVID-19.

Hajji Swalek Matovu a businessman in Kikuubo was in disbelief. "I deal in wholesale of plastics. We have been allowed by the president to open our businesses but the arcades are still locked," he said.

He added, "Several people dealing in the wholesale businesses have been arrested by the police yet they know we were permitted by the president."

He revealed that he and many of his other colleagues walked to town to open businesses

KMP spokesperson, Patrick Onyango said the police were paying keen interest in areas that might have misunderstood the President's directives on COVID-19 lockdown.

He cited Kisekka market where he said spare parts shops had opened yet the President referred to garages. He said makeshift repairers by the roadside would not be allowed to open because they are illegal and not licensed by KCCA.